Data Copy Test Results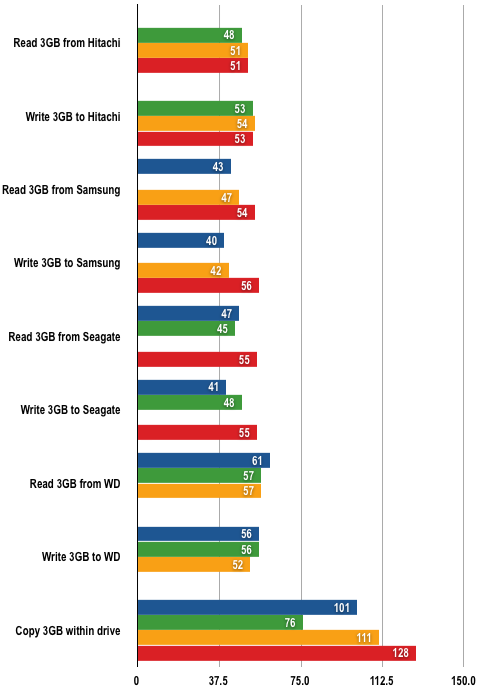 Copy duration in seconds
Shorter bars are better
No score where test not applicable
COMMENTS
Shoddy
As others have pointed out, you need to get your act together re: pricing.
The Samsung is the cheapest, the fastest and the quietest. Only the Seagate comes near.
The only other factor is reliability; In my experience, the Hitachi is trailing (along with Maxtor) and the the Samsung & Seagate are up in front, but YMMV.
Seagate = Shitegate
Well I can only agree with Steve Roper about Seagate drives.
I've had 10 replaced in the last 5 years. All different sizes. They don't seem to cope too well with BitTorrent and other P2P programs.
I have had 2 Maxtors and 2 Samsungs in the same period - all still work, but the Samsungs are VERY slow.
I am in the market for 4 x 750gb drives and I will be going WD or Samsung only.
Mileage
Seems to me my experience is as varied as everyone elses' - I have found Maxtor and Hitachi/IBM to be dreadful, and WD to be the best by far for reliability.
I've not had any first hand experience of Samsung but I've never wanted to buy one as they've not been around as long as the other major manufacturers.
I've had 4 WDs in a RAID 5 array for 2 years constantly at home in a server, in a cupboard normally reaching 30 C at times, and not one has failed yet, touch wood! Not had any problems with them at work either.
Review
Gotta hand it to the reg, it may not have included some information which a lot of us would have found useful, but it's by far the most detailed review I've ever seen on reg hardware!
Things can only get better (I hope!)
Varying Mileage
>Hitachi seem to me to be the most reliable drives around.
Just goes to show how personal bias/experience can colour these things.
After a bad experience of IBM/Hitachi drives repeatedly failing (and a few Samsungs too) I am loathe to touch either manufacturers drives .
Personal choice has always been for Maxtors with Seagate being second choice alongside WD.
The good thing is though, looking at the review, I am pleasantly suprised at how close they are to each other, we never had it so good :)