And finally we come to the WD1000FYPS, which was also sent to us by Quiet PC. It arrived some time after the Samsung and caused some surprise until we saw the specification of this fourth Terabyte drive. At idle, the noise rating is 24dBA, which only rises to 27dBA in regular use. The power-draw figures are also very low, at 4.0W and 7.4W, respectively, which is part of the GreenPower branding as this drive is also aimed at data centres that want to cut their power bill.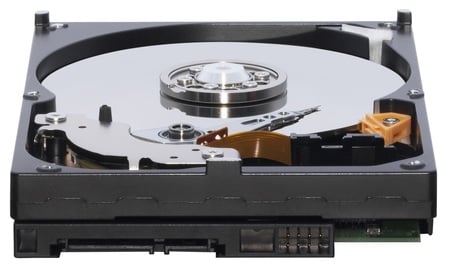 WD's RE2: variable spin speed
Mechanically, the WD RE2-GP appears very similar to the Seagate as it uses four platters with eight heads although the cache is a rather small 16MB.
In an unusual twist, Western Digital doesn't quote a spin speed for the drive. We'd expect it to use 7200rpm like the majority of hard drives. However, WD gives a speed of IntelliPower which it defines as "a fine-tuned balance of spin speed, transfer rate and caching algorithms designed to deliver both significant power savings and solid performance. Additionally, GreenPower drives consume less current during start up allowing more drives to spin up simultaneously resulting in faster system readiness".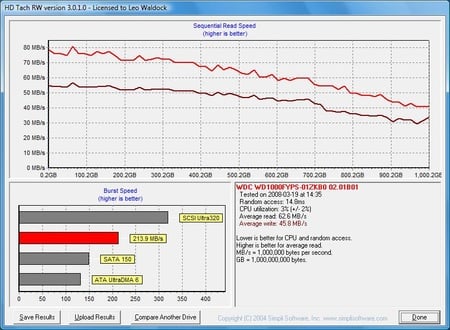 Click for full-size image
WD is vague about the spin speed of this model but it's clear to us that it is a 5400rpm drive in a world that has comprehensively switched over to 7200rpm. We're all in favour of saving money and reducing our dependence on electricity but the other side of this particular coin is the low performance of the RE2-GP as it lagged behind in every single one of our tests.
COMMENTS
Shoddy
As others have pointed out, you need to get your act together re: pricing.
The Samsung is the cheapest, the fastest and the quietest. Only the Seagate comes near.
The only other factor is reliability; In my experience, the Hitachi is trailing (along with Maxtor) and the the Samsung & Seagate are up in front, but YMMV.
Seagate = Shitegate
Well I can only agree with Steve Roper about Seagate drives.
I've had 10 replaced in the last 5 years. All different sizes. They don't seem to cope too well with BitTorrent and other P2P programs.
I have had 2 Maxtors and 2 Samsungs in the same period - all still work, but the Samsungs are VERY slow.
I am in the market for 4 x 750gb drives and I will be going WD or Samsung only.
Mileage
Seems to me my experience is as varied as everyone elses' - I have found Maxtor and Hitachi/IBM to be dreadful, and WD to be the best by far for reliability.
I've not had any first hand experience of Samsung but I've never wanted to buy one as they've not been around as long as the other major manufacturers.
I've had 4 WDs in a RAID 5 array for 2 years constantly at home in a server, in a cupboard normally reaching 30 C at times, and not one has failed yet, touch wood! Not had any problems with them at work either.
Review
Gotta hand it to the reg, it may not have included some information which a lot of us would have found useful, but it's by far the most detailed review I've ever seen on reg hardware!
Things can only get better (I hope!)
Varying Mileage
>Hitachi seem to me to be the most reliable drives around.
Just goes to show how personal bias/experience can colour these things.
After a bad experience of IBM/Hitachi drives repeatedly failing (and a few Samsungs too) I am loathe to touch either manufacturers drives .
Personal choice has always been for Maxtors with Seagate being second choice alongside WD.
The good thing is though, looking at the review, I am pleasantly suprised at how close they are to each other, we never had it so good :)