If we ignore the results of those two tests then the Samsung sweeps the board, but there's no avoiding the fact that the graphs produced by HD Tach are horribly jagged. The other consideration is that the Samsung is relatively expensive. It costs around £199 which is rather more costly than the next most desirable drive, which is the £149 Seagate. Having said that we're spoilt for choice with four Terabyte drives that all cost less than £200 so on balance we'd choose the Samsung as our favourite drive.
The third Terabyte drive is a Seagate Barracuda ES.2 ST31000340NS, and by the standards of this round-up it is very average indeed. It has four platters, eight heads and 32MB of cache. The spin speed is 7200rpm, it has a 3.0GB/s SATA interface and the rated noise levels are the same as the Hitachi 7K1000. Power-draw figures sit it between the Hitachi and the Samsung, although they are some way higher than the Western Digital.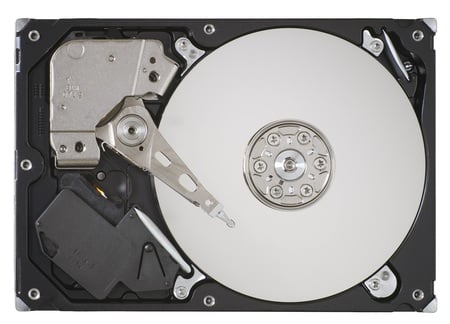 Seagate's Barracuda ES.2: average but cheap
We saw good results with the Seagate throughout our testing, although the HD Tach burst speed figure was notably low and the reported Random Access Time was one millisecond faster than we would have expected.
When it comes to setting up your new hard drive, Seagate has DiscWizard and SeaTools utilities. SeaTools for Windows has a system requirement for a 32-bit OS and .NET 2.0, which isn't much use if you're running 64-bit Windows or want to run the utility before you install your OS. The alternative is to run SeaTools for DOS on a bootable floppy but for some reason Seagate wants to make life difficult as it requires you to fill in an on-line application form before you can download this version of the software.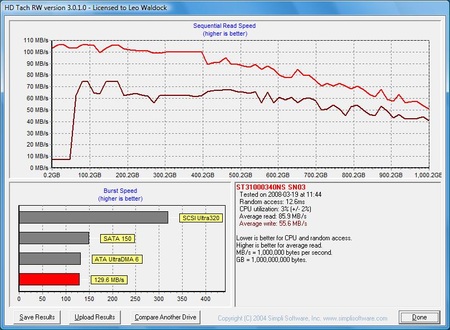 Click for full-size image
That's the only fly in the ointment with the Seagate as it delivers sterling performance with the minimum of fuss yet it is the cheapest of the drives on test. On balance, we favour the Samsung because of its high performance, but it's an incredibly tough choice.
COMMENTS
Shoddy
As others have pointed out, you need to get your act together re: pricing.
The Samsung is the cheapest, the fastest and the quietest. Only the Seagate comes near.
The only other factor is reliability; In my experience, the Hitachi is trailing (along with Maxtor) and the the Samsung & Seagate are up in front, but YMMV.
Seagate = Shitegate
Well I can only agree with Steve Roper about Seagate drives.
I've had 10 replaced in the last 5 years. All different sizes. They don't seem to cope too well with BitTorrent and other P2P programs.
I have had 2 Maxtors and 2 Samsungs in the same period - all still work, but the Samsungs are VERY slow.
I am in the market for 4 x 750gb drives and I will be going WD or Samsung only.
Mileage
Seems to me my experience is as varied as everyone elses' - I have found Maxtor and Hitachi/IBM to be dreadful, and WD to be the best by far for reliability.
I've not had any first hand experience of Samsung but I've never wanted to buy one as they've not been around as long as the other major manufacturers.
I've had 4 WDs in a RAID 5 array for 2 years constantly at home in a server, in a cupboard normally reaching 30 C at times, and not one has failed yet, touch wood! Not had any problems with them at work either.
Review
Gotta hand it to the reg, it may not have included some information which a lot of us would have found useful, but it's by far the most detailed review I've ever seen on reg hardware!
Things can only get better (I hope!)
Varying Mileage
>Hitachi seem to me to be the most reliable drives around.
Just goes to show how personal bias/experience can colour these things.
After a bad experience of IBM/Hitachi drives repeatedly failing (and a few Samsungs too) I am loathe to touch either manufacturers drives .
Personal choice has always been for Maxtors with Seagate being second choice alongside WD.
The good thing is though, looking at the review, I am pleasantly suprised at how close they are to each other, we never had it so good :)