Four 1TB hard drives on test
A quartet of desktop drives compared
And finally we come to the WD1000FYPS, which was also sent to us by Quiet PC. It arrived some time after the Samsung and caused some surprise until we saw the specification of this fourth Terabyte drive. At idle, the noise rating is 24dBA, which only rises to 27dBA in regular use. The power-draw figures are also very low, at 4.0W and 7.4W, respectively, which is part of the GreenPower branding as this drive is also aimed at data centres that want to cut their power bill.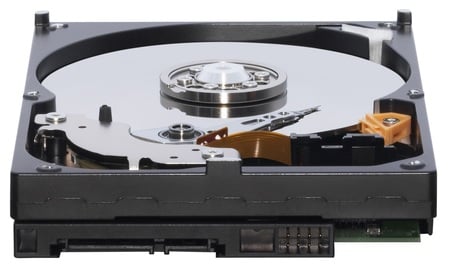 WD's RE2: variable spin speed
Mechanically, the WD RE2-GP appears very similar to the Seagate as it uses four platters with eight heads although the cache is a rather small 16MB.
In an unusual twist, Western Digital doesn't quote a spin speed for the drive. We'd expect it to use 7200rpm like the majority of hard drives. However, WD gives a speed of IntelliPower which it defines as "a fine-tuned balance of spin speed, transfer rate and caching algorithms designed to deliver both significant power savings and solid performance. Additionally, GreenPower drives consume less current during start up allowing more drives to spin up simultaneously resulting in faster system readiness".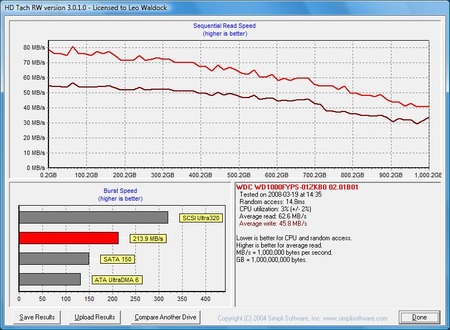 Click for full-size image
WD is vague about the spin speed of this model but it's clear to us that it is a 5400rpm drive in a world that has comprehensively switched over to 7200rpm. We're all in favour of saving money and reducing our dependence on electricity but the other side of this particular coin is the low performance of the RE2-GP as it lagged behind in every single one of our tests.
Sponsored: Minds Mastering Machines - Call for papers now open