Four 1TB hard drives on test
A quartet of desktop drives compared
The software appears to predate the Hitachi buyout of the IBM hard drive business as it is identified as IBM Ftool but it works perfectly and does a top job.
You might be tempted to use the AAM (Automatic Acoustic Management) slider control to back off the Performance default and head to the Quiet end of the scale, but we advise that you leave well alone. Although the Hitachi 7K1000 is the noisiest hard drive in this round-up it is still virtually silent.
The test PC that we used to run the hard drives was built around a passively cooled Abit IP35 Pro motherboard with a quiet Zalman cooler on the Intel Core 2 Quad Q6600 CPU. The MSI NX8800GT graphics card and Enermax Liberty 620W power supply are also relatively quiet pieces of hardware, and in practice all fours hard drives were effectively silent when they were idling. When the drives were working away during our benchmark tests they were audible but the difference between the quietest drive – the WD, at 27dBa - and the Hitachi's 32dBa was less significant than the 5dBA may suggest.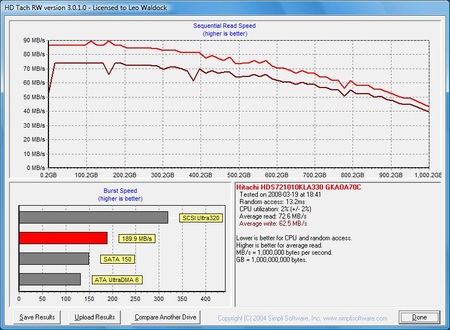 Click for full-size image
The biggest contribution to the ambient noise level was Windows Vista as it keeps your hard drive ticking away almost non-stop. Where XP allows the drive to idle silently between jobs, Vista seems determined to keep the drive busy indexing its contents ceaselessly.
To test the drives we installed Vista Ultimate Edition SP1 on each drive in turn and then used each of the other three drives as a data drive.
The Hitachi set a decent benchmark for performance as a standalone drive in PCMark05 and also as a data drive when we ran HD Tach 3. File transfers within the Hitachi were faster than the Seagate and Western Digital but a fair amount slower than the Samsung. With the Hitachi as the Windows drive, we saw fast transfer times with the Samsung and Seagate as data drives. However, the Western Digital lagged. When the Hitachi was used as a data drive it performed at a very similar rate with all three drives but the performance was middling.
If you fancy a Hitachi 7K1000 we suggest you use it as your main Windows drive and not as a secondary data drive.
Sponsored: Minds Mastering Machines - Call for papers now open