Four 1TB hard drives on test
A quartet of desktop drives compared
Round-up Hitachi was the first hard drive company to offer a 1TB model. We got our hands on the 7K1000 and were thoroughly impressed. Since then the other drive companies have piled into the Terabyte market, so it's time to see how they compare.
In the last 12 months or so, the price of the Hitachi has fallen to £159 which pitches it squarely against the Seagate ST31000340NS Barracuda ES.2 and Western Digital's WD1000FYPS RE2-GP. Hitachi uses five platters and ten recording heads to achieve the nominal 1000GB capacity, where the Seagate and Western Digital have four platters and eight heads. The Samsung SpinPoint F1 stands out in this round-up as it's a triple-platter model that packs just over 333GB on each disc.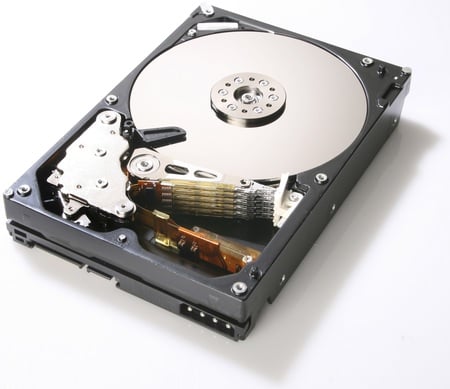 Hitachi's 7K1000: once the standard for low-noise drives...
The Hitachi 7K1000 shows its age as it sports a four-pin Molex power connector alongside the SATA data and power ports. This suggests that the Hitachi isn't a true SATA II drive. However, it has a 3Gb/s SATA interface and supports Native Command Queuing, so if it isn't truly SATA II, it comes very close.
When we reviewed the Hitachi we mentioned the 32dBA seek noise level and commented that it was "extraordinarily quiet". That was especially true when it was compared to the WD Raptor 150, which has an average seek noise level of 36dBA. At the time a 500GB Seagate Barracuda 7200.10 was rated at 37dBA, so the 7K1000 set a new standard for quietness.
How times have changed. In this round-up, the Hitachi is the loudest drive both at idle and during seek and it also draws more power than the other drives. The obvious conclusion is that the five platter design requires more power than the three and four platter arrays and also creates more noise and heat.
If you like, you can visit Hitachi's download page, where you can download the HD Feature Tool utility. There are two versions, one for creating a bootable floppy, the other an ISO image that creates a bootable CD. You can use the software to change the acoustic level, APM (Advanced Power Mode), monkey around with SMART, or show the drive temperature. Should you choose you can also disable the write cache and the read look-ahead cache.
COMMENTS
Shoddy
As others have pointed out, you need to get your act together re: pricing.
The Samsung is the cheapest, the fastest and the quietest. Only the Seagate comes near.
The only other factor is reliability; In my experience, the Hitachi is trailing (along with Maxtor) and the the Samsung & Seagate are up in front, but YMMV.
Seagate = Shitegate
Well I can only agree with Steve Roper about Seagate drives.
I've had 10 replaced in the last 5 years. All different sizes. They don't seem to cope too well with BitTorrent and other P2P programs.
I have had 2 Maxtors and 2 Samsungs in the same period - all still work, but the Samsungs are VERY slow.
I am in the market for 4 x 750gb drives and I will be going WD or Samsung only.
Mileage
Seems to me my experience is as varied as everyone elses' - I have found Maxtor and Hitachi/IBM to be dreadful, and WD to be the best by far for reliability.
I've not had any first hand experience of Samsung but I've never wanted to buy one as they've not been around as long as the other major manufacturers.
I've had 4 WDs in a RAID 5 array for 2 years constantly at home in a server, in a cupboard normally reaching 30 C at times, and not one has failed yet, touch wood! Not had any problems with them at work either.
Review
Gotta hand it to the reg, it may not have included some information which a lot of us would have found useful, but it's by far the most detailed review I've ever seen on reg hardware!
Things can only get better (I hope!)
Varying Mileage
>Hitachi seem to me to be the most reliable drives around.
Just goes to show how personal bias/experience can colour these things.
After a bad experience of IBM/Hitachi drives repeatedly failing (and a few Samsungs too) I am loathe to touch either manufacturers drives .
Personal choice has always been for Maxtors with Seagate being second choice alongside WD.
The good thing is though, looking at the review, I am pleasantly suprised at how close they are to each other, we never had it so good :)