iPhone to get haptic feedback, sort of
Haptics - the ability to give users feedback through the sense of touch - aren't officially available for the iPhone yet, but one add-on manufacturer claims a plastic touchscreen overlay is just as good.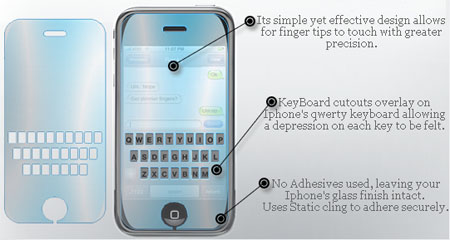 My Touch Keys: claimed to improve keypad accuracy
My Touch Keys (MTK) look like most existing protective plastic screenshields. However, the MTK has holes punched out of it that align with the iPhone's on-screen Qwerty keys when the handset's held in portrait orientation.
By creating a slight lipped edge around each virtual key, the vendor claims, the MTK provides better feedback to guide your fingers more accurately to the correct keys than the iPhone alone does.
Since the MTK works by touch alone, it is haptic, kind of.
However, an MTK design flaw will appear as soon as you open the iPhone's Safari web browser. Rotate the iPhone into landscape mode and Safari re-displays itself accordingly. So does the on-screen keyboard, so the cut-out keys won't be aligned with the handset's virtual ones in this instance.
The MTK's edges could also peel off after prolonged use, causing dust and dirt to stick on and scratch the iPhone's screen.
An MTK twin-pack sells for $8 (£4/€7) online. The supplier's currently only shipping to the US, however.
Sponsored: Minds Mastering Machines - Call for papers now open