WD touts 320GB 'elite' pocket hard drive
Status warranted by encryption app and capacity readout
An external hard drive with a "soft-touch finish" that's "easy to grip, comfortable to hold and fashionable to carry", anyone? That's what Western Digital is now offering, in the form of its WD Passport Elite.
The drive will be available in two capacities: 250GB and 320GB. They have a mini USB port for data and power, but you'll need to buy a double-headed cable separately if your computer's USB port doesn't provide enough juice.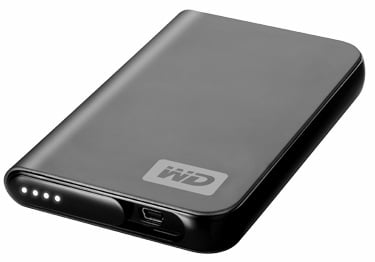 WD's Passport Elite: $40 premium buys you a capacity readout and more
WD was keener to point out the drive's four LEDs, used to give a rough guide to the amount of data held on the unit. The Elites also come with 128-bit encryption software to guard your info from prying eyes if you happen to leave the drive behind.
The drive will also hook up to both the PS3 and Xbox 360 to allow the consoles to play media files stores on the Elite, so it's not just computer users who get a look-in.
And if the specs don't appeal, maybe the fact the Elite comes in a choice of bronze, titanium, blue and red colours.
WD said the 250GB Elite costs $170 (£85/€109) - $30 more than the non-Elite 250GB Passport - while the 320GB model costs $200 (£100/€129).
Sponsored: Minds Mastering Machines - Call for papers now open