VuPoint Solutions FS-C1-VP slide scanner
Bring your old snaps out of the analogue era
And this is where you realise that scanning your memories is not a one-button process. Some initial scans looked a little washed out, others had a greenish tinge. OK, these are wedding pics or from that long sabbatical you took in the mid-1980s, and it's entirely possible that you remember the day through a rosey or golden hue.
But the fact is, what you see on screen is not what you'd see if you popped the slide on a lightbox. Welcome to the digital world. The bundled software goes some way to correcting this accident of memory, and of course if you're a Photoshop jockey you'll have just the sort of memory you want before too long. A slightly murky grab of a night at a night club did scrub up nicely.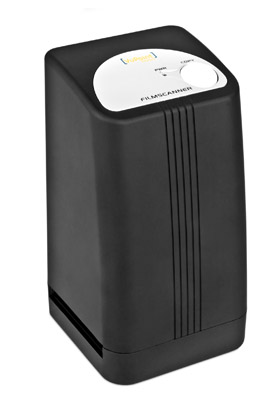 20cm high with a nice matte black finish
But with some pics, try as we might, we just couldn't capture the detail we know is in there. And we do know it's in there because we've still got copies of the wedding pics stuck up in the house, and you can indeed see the pattern on that rather fetching blue and gold tie. Perhaps packing all that light into such a small package is inevitably going to mean a touch of overexposure here and there.
How much of a problem this is going to be depends on what you're looking to achieve. If you're a pro with a career's worth of quality pics you need to preserve, you're going to be wasting your time – literally, as you push the five-pic slide holder through, one snap at a time.
If you've got boxes of negative film, you were probably never that serious about photography in the first place, and might be better off scanning your existing prints. If you were an enthusiastic amateur who used colour slide film and black and white, it just might be a start. But if you really want to see the detail on that tie, you might have to look in the wardrobe, not on your screen.
Verdict
If you're old enough to remember saying "ooo d'ya think yoo are, David Bailey?", this could help you re-envision your past, providing you don't mind losing some of the detail on the way
Sponsored: Minds Mastering Machines - Call for papers now open
VuPoint Solutions FS-C1-VP slide scanner
This could help you re-envision your past, if you don't mind losing some of the detail on the way