VuPoint Solutions FS-C1-VP slide scanner
Bring your old snaps out of the analogue era
The scanner carries nothing in the way of controls except a power lead and an inch-wide Copy button. Exposure and colour balance are entirely automatic.
The manual is even more basic – but not in a good way. You may well come unstuck trying to match it to what's happening on your screen while you're installing the software. Once the software's installed, simply plug in the USB plug, and you're on the way. Kind of.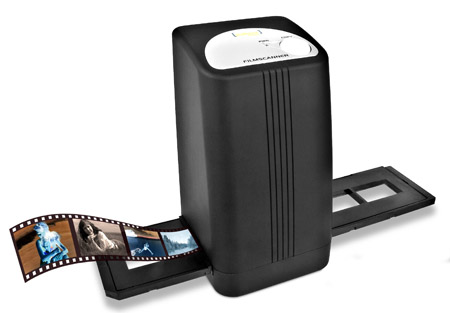 Keep the slide holder right side up with the trimmed corner going in first
You first have to load the film or slides into the appropriate holders, and then slide the holder into the device itself. You choose the resolution, colour depth and file format in the software, 24- or 48-bit colour depth; up to 3600 dpi; and TIFF or JPEG.
You can see what's potentially being scanned on the viewing window in the software. Lining it up seems to be an imprecise science until you realise that as long as the slide holder is the right-side up, with the trimmed corner going into the machine first. It actually clicks into place each time you move it on a slide. There's no mention of this in the manual, though, which can leave the uninitiated faffing around through a couple of dodgy blurred grabs. Remember, this is the generation that grew up on the box brownie.
Once the image is lined up, and you've allowed the white balance to settle. You then either hit the Copy button on the scanner or the 'snapshot' button in the software to capture the image. Next, hit the software's transfer button to save the image on your computer. You can then either stick with the Arcsoft software to view and edit the captured pic, or fire up an alternative app.
Sponsored: Minds Mastering Machines - Call for papers now open