Yes! It's the handgun camcorder!
Point-and-shoot photography given new meaning
The term 'point and shoot' has been used by photographers for years. However, snappers' images were never fatal - until the invention of a compact camera-cum-handgun, that is.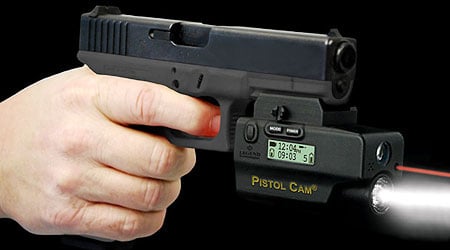 PistolCam: photography at its most deadly
PistolCam is a camera unit that clips onto a variety of handguns. Once in place, and the deadly weapon's removed from the holster, the gadget can be used to 'shoot' still images and videos.
During a shoot-out, 3.2-megapixel JPEG images can be recorded onto the gadget's 512MB internal memory. Trigger-happy users need only squeeze the shutter key to capture a miscreant in the act before he pays the price... BAM! BAM! BAM! Click! Click! Click!
If you need video footage of the target, then the PistolCam's manufacturer claims the unit can record between 40 and 60 minutes of MPEG 4 footage at 30 frames per second.
The shooter's USB 1.1 connection enables both video and still images to be transferred to other devices.
You'll never miss an opportunity for a good shot with this device. Once the gun's been removed from its holster, a "Tactical Illuminator" - a red laser aiming aid, essentially - helps you draw a bead on the target... er... subject.
A handgun is only as good as the number of rounds left in the chamber. However, the PistolCam will continue shooting pictures for five hours.
PistolCam costs around $700 (£350/€400) and is available direct from the manufacturer. And no, the gun isn't included...
COMMENTS
great idea but
the one thing I've noticed about police in action when they have their guns drawn is that they tend to move pretty fast.. then all that movement at the end of your arm would be magnified even more. So unless the camera has a pretty high frame rate all you are gonna see is a blur.. especially when combined with the kick of the bullet leaving the barrel..
does this thing have image stabilization like the steady cams that the movie studios use?
Half-baked idea, and incomplete article
From a newspaper report I read yesterday, the camera allegedly starts "shooting" as the weapon is drawn from its holster, so it will show everything from that moment.
This only records half of the event however. One of the things that is usually asked is "was the officer correct to draw his weapon" - this won't provide those answers and still leaves the officer vulnerable in a court case. Nearly there, but not quite.
I'd suggest building the camera into a headset or something, should cover everything. Unless there are people out there who can shoot a crim without pointing their head in that general direction!
@A J Stiles - sounds brilliant, we can have armed response units with truncheons and CS gas tackling armed criminals then? Recipe for success right there... It ain't perfect, but I don't think the police saying "we'll not have guns from now on" followed by a plea to the baddies to follow suit will work at the moment!
Easier Method
Surely there's a much easier method of preventing the police from shooting anybody they shouldn't: don't give them guns in the first place!
re. You have to be kidding
I agree it's a bit bulky, but if people can see a benefit in this type of technology (police I'd guess) then it would be easy to reduce it in size and integrate it into the design of the weapon (a bit like the LaserMax sight that fits into the guide rod).
From a photography point of view it will definitely prevent those annoying "hand in front of lens" shots; well the second time anyway.
I don't hate this
This camera protects the innocent, no matter which end of the gun they are on.