Endeavour accompanied by Rocket Man
NASA gets Nano'd up
NASA may not be emblazoning its shuttles with Formula One-style advertising slogans, but like Hollywood it seems to be sidling towards the odd sneaky bit of product placement.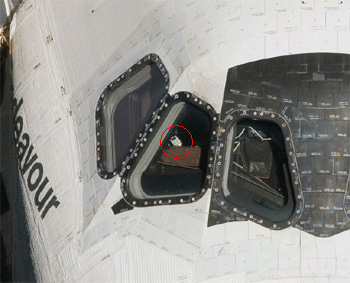 The new iPod Shuttle®.
Picture copyright © Nasa
The Reg reported last year on optimistic mutterings about the idea of NASA slapping exhortations and endorsements on the virgin sides of its craft. Congressman Ken Calvert, who wanted the agency to embrace ads, may have himself a little smirk at this shot of an iPod nestling on the dashboard of the Endeavour.
The Jobsian brand-awareness-booster was clocked in a shot taken by astronauts on the International Space Station. NASA explained that bubbleheads on the shuttle executed a back flip to display its heat shield to the watching space station crew. The spacebound Apple toy was spotted by a keen-sighted Unofficial Apple Weblog reader as he scoured hi-res NASA images. Were it not for the gadget fan, we might all have gone the rest of our lives thinking that the small white blob was a carelessly-discarded sports sock.
iPods need to be modified to take to the stars - the lithium batteries have to go, replaced by specially certified alkaline ones. We bet that however many billions go into the space program, there's still only ever one of those left in the packet when an tune-starved astro needs two. ®
Sponsored: RAID: End of an era?