Nokia passes buck over Greenpeace eco rating reduction
Third-parties to blame
Nokia has blamed third-parties behind its handset recycling scheme after Greenpeace docked points from the Finnish phone giant's environmental rating for failings the organisation found in its take-back efforts.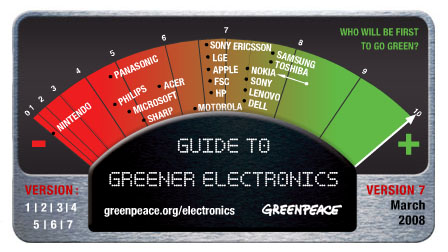 Greenpeace's manufacturer ranking: bad news for Nintendo
Greenpeace's quarterly report, Guide to Greener Electronics, monitors the eco-credentials of the top 18 consumer electronics manufacturers, including computer and games console makers.
Nokia should have taken pole-position in the latest report, scoring 8.3 out of 10. However, Greenpeace slapped a penalty onto the company because of deficiencies it claims it found in Nokia's recycling programme. As a result, Nokia only scored 7.3 and was pushed back into third place, behind Toshiba and Samsung.
A Greenpeace spokeswoman told Register Hardware that although Nokia has a handset recycling scheme in place, the system simply doesn't work as effectively as it could. The organisation found that Nokia representatives in Russia and many developing nations didn't know about the programme and so were not promoting it to consumers.
Nokia's director of environmental affairs, Markus Terho, claimed that the take-back scheme, which allows customers to dispose of old handset in recycling bins at Nokia stores, is working well. Nokia will also recycle other manufacturers' handsets, he said.
However, Terho admitted: "The scheme's so big that we've had to outsource the service at the customer facing point in some countries. Many of these people change frequently and some therefore need extra training."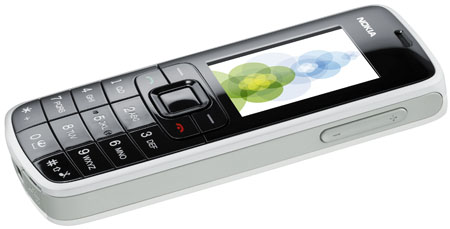 Nokia's 3110 Evolve: made from 50 per cent recyclable material
Other manufacturers felt Greenpeace's recycling wrath too. Nintendo, Philips and Microsoft remained the worst performers.
Nintendo rolled into last place with a 0.3 score. Greenpeace said the company had improved a tiny amount from the previous report, but that the Wii manufacturer was still "way behind" the others.
Philips scored 4.3, but was criticised for poor waste recycling. Microsoft was awarded 4.7 but, like Nokia, came under close scrutiny for the quality of its take-back scheme.
HP and Apple rested midway up the pecking order. However, HP, which scored 6.7, suffered because it doesn't have a timeline for eliminating the most toxic chemicals from its products. Apple achieved the same score, but Greenpeace said the iPhone maker's take-back scheme needs to be pushed out globally.
Samsung and Toshiba, which would have been nipping at Nokia's heels had it not been for the penalty, took joint first place.
Greenpeace praised Toshiba's continued e-waste and recycling policy. The organisation may have given Samsung a joint top spot, but it still criticised the Korean manufacturer's "incomplete take-back practice".
A full copy of the report is available on Greenpeace's website.
Sponsored: Minds Mastering Machines - Call for papers now open