Roberts WM-201 Wi-Fi internet radio
Internet radio goes mainstream
Searching for content is straightforward and intuitive. You're able to look for stations alphabetically, by genre, or by country. The real joy here is that radio choice has traditionally been quite limited, even since the introduction of DAB. This has meant that radio listening can be quite sedentary, with listeners tending to stick to a few favorite stations. But with the easy access to the vast array of content out there that the Roberts provides, you really do feel like a whole new world of music is open to you.
Twelve station presets isn't overly generous, but the joy of internet radio is not repeatedly sticking to the same stations. So, in use, 12 actually feels like enough and access to features like the BBC's listen again service are welcome additions.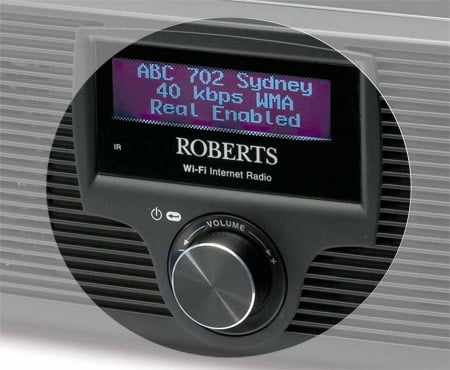 Control and screen work well
The WM-201's talents don't end with internet radio as it can also access and play any digital music files stored on a shared network or computer - including MP3, WMA, AAC, WAV, FLAC, AIFF and Real Audio files. But the unit won't play anything with DRM protection, and extra software patches are necessary if you want to connect to a server using UPnP rather than Windows Share.
Using Windows shares allows the player to search by artist, album and track. Over a UpnP link, the options are controlled by the server. Of course, playback quality of stored content is to a large extent controlled by the file itself, but again the sound quality here was clear, un-muddied and open.
Verdict
A little difficult to get going, but once up and running this is a top quality radio, with the sound outstripping most of the market. Its £200 price tag is not the cheapest, but then this does come down to priorities. If sound quality is important to you, the WM-201 is decent value and you can really hear where the development money was spent.
Sponsored: Minds Mastering Machines - Call for papers now open

Roberts WM-201 Wi-Fi internet radio
R&D money well spent on good quality sound.