Roberts WM-201 Wi-Fi internet radio
Internet radio goes mainstream
Once the box is up and running, the control system makes more sense. The knob has a smooth, accurate action. Many products that use a controller of this type work fine until you have to push the thing in to make a selection. A lot of products don't have the weight or the build quality to make this easy - the knob requires more pressure to make the selection than it takes to push the unit across the surface it's sitting on.
This means you end up holding the unit around with both hands in order to make a selection: one to depress the knob, the other to hold the unit still. We're please to report this is not a problem you'll experience with the WM-201.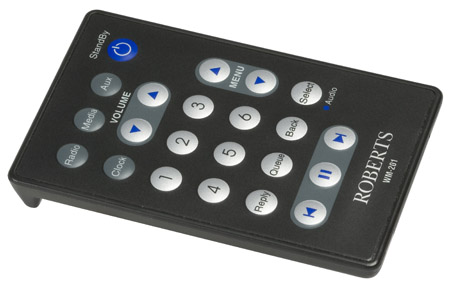 The remote offers all the functions of the main control plus a few more
The unit does have its own compact remote, which provides access to all the functions offered by the central knob with a few more for good measure.
Roberts is proud of its tradition of providing good sound quality, and this aspect has been afforded as much attention as the more cutting-edge technology on board. The radio uses all of its 2 x 5W output, and the speakers are set at an angle to provide a wide soundstage. The unit is ported to add extra depth to the sound.
Once you start to wade through the stations, the difference in sound quality from station to station becomes very apparent. Fortunately, the unit has a neat trick here, with one-touch access to bass and treble controls, which allow you to smooth out most audio hiccups.
All this attention to detail really comes out in the WM-201's sonic performance, with a rich and detailed sound stage - no easy feat when dealing with internet stations. It's not going too far to say that this is probably the best internet radio we've yet heard.
Sponsored: Minds Mastering Machines - Call for papers now open