AMD 780G integrated DirectX10.1 chipset
Leaves Nvidia and Intel standing?
We were very impressed by 780G and whole heartedly recommend it for anyone who is building a Media Centre PC. Having said that, we do have some thoughts that aren't exactly reservations but which make us wonder a bit. Hybrid graphics sound great but the idea of plugging in a £29 graphics card to increase 3DMark06 from 1100 marks to 2000 seems a bit futile. It's not going to have a huge effect on even a basic game, and if you plug in a more serious graphics card such as an HD 3850 then the IGP will only play a tiny part in the proceedings. Hybrid graphics works but it seems rather pointless.
Blu-ray Playback CPU Utilisation Results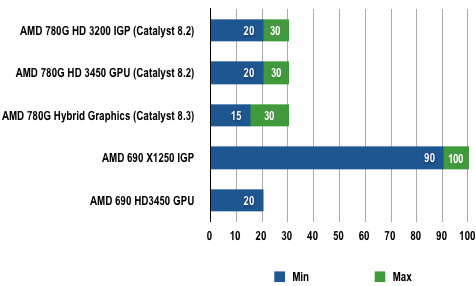 Shorter bars are better
It's a similar story with the DirectX 10.1 support. Tick on the box, extra feature, no harm in having it but honestly, can you imagine playing a DirectX 10 or 10.1 game on 780G? Not a chance.
Power Draw Results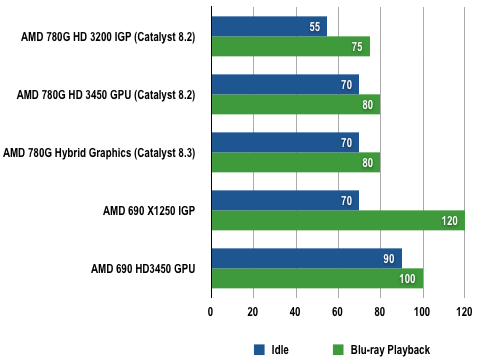 Power draw in Watts (W)
And then there's the spanking new SB700 southbridge chip, which has been in the works for ages and which finally makes its debut with 780G. It seems to work well enough but USB and SATA performance barely merit a mention with this chipset and that's all the new southbridge brings to the party.
Verdict
Would we recommend the 780G? Provided you don't want to play games then the answer is a big 'Yes'. If your gaming requirements are modest, the answer is less clear as you'll need a graphics card and there's nothing to stop you plugging an HD 3450, 3650 or 3850 into a cheap Core 2 Duo PC. Still, for integrated graphics performance, neither Intel nor Nvidia come close.

AMD 780G integrated DirectX10.1 chipset
AMD's 780G takes over from AMD 690 as the king of the Media Centre chipsets.