AMD 780G integrated DirectX10.1 chipset
Leaves Nvidia and Intel standing?
With Hybrid graphics enabled the HD 3450 combines with the 780G to increase the 3DMark06 score to a hair below 2000 marks. There's no denying that Hybrid graphics works as advertised but it's hard to see why you'd bother increasing graphics performance by a relatively small margin. There's a back-handed compliment hidden in there as this is the first time we've ever seen a situation where you'd consider using the integrated graphics when you have the option of using a passively cooled and silent graphics card.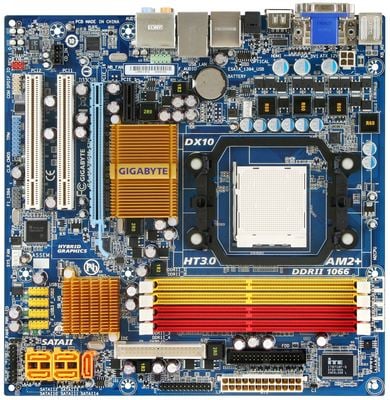 Gigabyte's 780G-based MA78GM-S2H: runs cool, not warm
You'll see from the test results that 780G eclipses the Radeon X1250 graphics in AMD's older 690 chipset. More importantly, the Universal Video Decoder (UVD) chip in the 780G will handle Blu-ray playback with the minimum of fuss and a CPU load in the range of 20-30 per cent from upwards of 90 per cent - not that it dropped any frames, mind. For the record, this was Casino Royale on a Pioneer BDC-S02 Blu-ray drive with CyberLink PowerDVD 7.3 software running under Windows Vista Ultimate 32-bit.
You may be wondering about the Athlon X2 BE-2400 processor that we used to test the 780G as AMD tells us that it is a "new addition to the AMD line of 45W dual-core desktop CPUs [that includes the] Athlon X2 BE-2300, BE-2350 and BE-2400. At 2.5GHz, it's quite an able CPU for such a low power threshold".
The inclusion of this processor in the review kit along with a £65 Gigabyte GA-MA78GM-S2H motherboard and 2GB of relatively slow Corsair CM2X1024-6400C4 memory also tells a tale. AMD is putting the emphasis on the performance of the 780G without a hefty processor to drive it along.


Blu-ray playback CPU usage: AMD 780G (top) and AMD 690G (bottom)
AMD also supplied reams of information about the need to ensure Cool'n'Quiet is enabled. It quite correctly makes the point that most BIOS settings disable C'n'Q it by default, and that you shouldn't monkey around with the power management scheme in Vista. Neither should you manually set the CPU multiplier or frequency as that locks the CPU frequency, which will over ride C'n'Q's attempts to vary CPU speed the better to keep the fan speed down - and thus generate less noise.
Sponsored: Magic quadrant for enterprise mobility management suites