LG KF600 dual-display sliderphone
Two screens are better than one
As well as providing a virtual navigation pad, the InteractPad system offers some uniquely touch elements. You can use gestures to move swiftly through lists of contacts, tunes, images, and so on. Handwriting recognition is an option for text and message entry. It's easy enough to write with your finger, though some of the accompanying virtual control buttons are far too tiny for this large-fingered writer.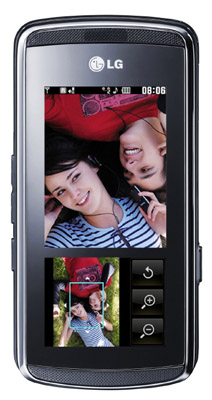 Both displays work together
Turn on the KF600's three-megapixel camera, and the displays switch automatically to landscape mode. There's a capture button on screen, but it's easier to use the regular key on the side. As well as 'brightness' and 'back' buttons, there's a menu key that pulls up a range of settings on the larger display, which also acts as the viewfinder. This is all straightforward to use, though it's a bit difficult to make adjustments quickly when bright light is reflecting on the display.
There are plenty of options to override the auto-metering facilities. You can alter exposure shot modes, change white balance to suit various indoors or outdoors lighting conditions, and tweak both the resolution and the compression level of pictures. There are even portrait enhancer and shake-reduction options.
But most welcome is the autofocus system and macro facility, giving you flexibility for sharp shooting even up close. It's a two-step process, enabling you to first focus on a subject and then move the camera for a better composition or exposure level.
There's an LED light too, although it's manually activated, not automatic. The camera is capable of capturing some finely detailed shots, with quite vibrant colour rendition. Its automatic metering system adjusts quickly to changing lighting conditions and exposure is generally good. In low light levels, the performance isn't quite so good, and the flash option could be better – it is bright for short-range shots, but doesn't illuminate with much finesse.
Once snapped, images can be viewed using a clever combination of the InteractPad and main screen. You can target the area for zooming and panning using the touchpad, while viewing the zoomed picture on the main screen. You can tilt and expand your pictures to create full two-screen wallpapers, which is a nice addition.
Video is captured in a similar way to still photos, although the resolution is limited to 320 x 240 (QVGA), so playback quality is fairly average. It's not up to the Viewty's performance.
Sponsored: Minds Mastering Machines - Call for papers now open