LG KF600 dual-display sliderphone
Two screens are better than one
However, the touchscreen is where most fingers will be pointing with this mobile. The InteractPad user interface does feel distinctively different to anything else around at the moment - at least until Samsung's soul arrives. At the same time, it has plenty of reference points to 'normal' mobile navigation conventions so it feels familiar and intuitive. It provides 'haptic' vibration feedback to let you know you've pressed a button properly, which is reassuring on a touchphone.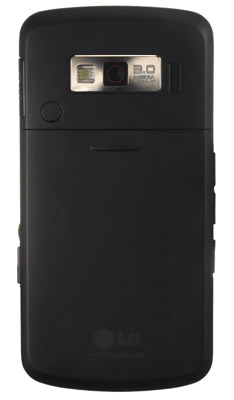 Comfortable to carry
Of course, you'll probably need to play around a bit to get the feel of the menu system, but LG has reproduced its regular menu format on the upper display.
The top screen is a 2in, 240 x 320, 262,000-colour display, while the touchpad beneath is a 1.5in panel offering the same resolution and colour depth. Once the keypad is unlocked, the InteractPad lower screen shows a six-icon set of shortcut keys.
This also brings into play another aspect of the KF600's unusual visual display. The screens work in tandem to show off the animated wallpapers as if the displays are connected. To make the most of this effect, LG has included a bunch of themes based on Keith Haring artwork. These colourfully distinctive graphics are bound to grab attention and comments as they move from one display to the other, and add colour to the InteractPad buttons.
Once you get into the main menu, you get a better of idea of how the InteractPad interface works. When you navigate around the menus, the Pad presents direction arrows, and OK and 'back' buttons. To select an option, you simply scroll as you would using a standard five-way nav-pad. Alternatively, you can select options quickly by pressing the number displayed next to the option, just as you can on most other LG phones.
The responsiveness of touchscreen controls is always a concern. If they're too sensitive, you get annoying key-pressing mistakes. If they're not responsive enough, they can be frustratingly slow to use. While the InteractPad system may not be as fast to react as a standard physical nav-pad, or the iPhone's smooth performance, it is reasonably responsive.
Then there's the question of where you press. Having only one of the two screens touch-sensitive can initially be odd, particularly if you're used to using touchscreen devices. At first, we instinctively found ourselves tapping the options on the display-only screen, though this habit wore off after a while.