HTC applies for multi-keypad sliderphone patent
Thumbs at the ready
HTC has filed a patent application for a handheld electronic device that combines a multi-directional slider design with a keypad stretched beyond the dimensions of the gadget's display.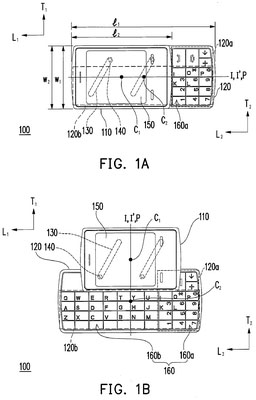 HTC's patent sketch: the large keypad slides in many directions
The application, which was filed with the US Patent and Trademark Office back in 2007 and updated earlier this month, is for a handheld electronic device - almost certainly a smartphone, given HTC's business - that includes a display body, an input body and at least one "track".
By using multiple tracks, users would be able to slide the device's display horizontally and vertically over the larger-sized Qwerty keyboard beneath it. For example, the display could be pushed one way to reveal the keypad's Qwerty section. Alternatively, the screen could be slid in the other direction to present a regular numeric pad.
But because the keyboard is larger than the device's display, users will always have a gadget that's more keyboard than screen. This makes the unit seem as though the keypad has been stretched beyond 'traditional' proportions.
It also begs the question, why not just make the screen as large as the keyboard?
The patent application doesn't indicate if HTC's design will ever make it to market.
Sponsored: Minds Mastering Machines - Call for papers now open