Desktop Eee PC spied on web
Brand-less slimline box runs 'Eee PC Linux OS'
Is this the face of Asus' diminutive desktop Eee PC? The machine, snapped at the CeBIT show earlier this month, was certainly tagged with the Eee's own slogan, "Easy to Play. Easy to Learn. Easy to Work".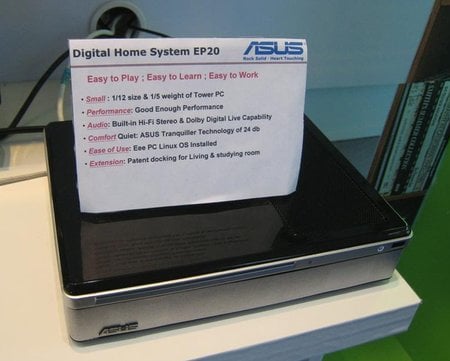 Asus' desktop Eee PC
Image courtesy Matbe.com
The desktop wasn't listed as an Eee but as the "Digital Home System EP20". However, it's hard to conclude that the 'EP' in the model number isn't short for 'Eee PC' - especially when the box is listed as running "Eee PC Linux OS".
Asus is probably just not ready to go fully public on the desktop, its specs and branding yet.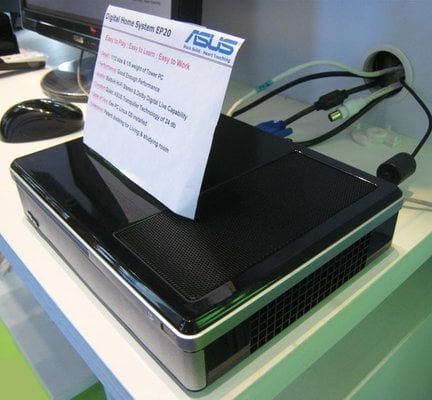 Runs Linux
Image courtesy Matbe.com
The pictures come courtesy of French-language site Matbe.com, which snapped the desktop at CeBIT, t'other week.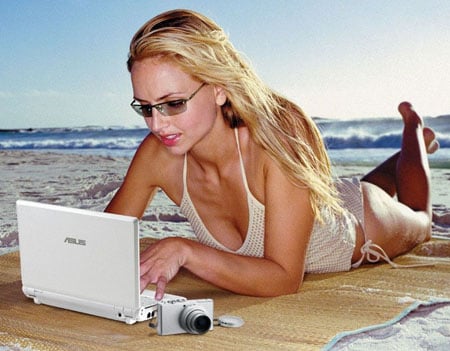 Eee PC and friend: off the beach and onto your desk
Specs remain unclear, but past comments from Asus CEO Jerry Shen suggest that the EP20 will be based on Intel's Atom processor - aka 'Diamondville' - and the 'Shelton' platform into which the CPU slots.
The top shot suggests the EP20 has a slot-loading optical drive, while a glimpse of the backplane indicates Eee-standard VGA, 10/100Mb/s Ethernet, 3.5mm audio sockets and a trio of USB ports.
In the past, Asus has referred to the desktop Eee as the E-DT, noting that it will debut in April or May for $200-300. It's working on a digital TV with integrated Eee technology too.
COMMENTS
Hi-def and servers
Not sure how hi hi-def is in practice but my old pre-Coppermine Celeron 433 (with the crippling 66MHz FSB) running Ubuntu 7.10 can play back conventional DVDs perfectly so I'd not rule it out entirely. Linux is actually the OS where media playback works these days (DRM; what's that?) and conveniently it's also less snooty about what hardware it will run well on.
Also, I've been waiting for these for ages, and not for a home media box / general fart-around machine - I want three, as servers (one for Squid / Tor / BitTorrent and a (low traffic) webserver, one as a file server (with external USB disks; I suspect this will have a 4Gb flash drive inside) and one as a database server - again, not heavy duty). Actually I think ASUS are missing a trick here - wouldn't these make the basis for a great low-power server?
I mean, sure, with only one PSU and probably fairly cheap components you're not looking at something as stable as an IBM x346 and it's certainly got nothing like the power, but there will be virtually no (possibly no) moving parts and the power consumption will be very low. At this price you could cluster five of the buggers and at that size you could get them in less than 2U of rack space. Businesses in my experience seem to throw a ton of iron at everything when the fact is in many cases usage is so light that this would be ample - and the network is often the bottleneck anyway (as is the case for everything but the database server in my case and even there the EEE would have enough grunt (or squeak?) for my purposes...
Man on the moon?
Or perhaps, "capable of running a power station", the rather optimistic claim made in the advertising for the ZX-80.
I like consistency.
Nice to see the obligatory 'Eee PC and Friend' yet again.
Well done, Reg. Keep it up.
Oh does it matter?
DVI, HDMI... Who cares... You can connect DVI to HDMI anyway (HDMI is the same, plus audio).
And what's the point of HDMI if it's got a "slow" CPU and Linux? You wouldn't be able to play hi definition content on it anyway (which 99% of consumers seeing HDMI would expect).
Korrekt Grammer
"Patent docking for Living and studying room"
You'd have thought a big firm like Asus could employ at least one native English speaker in their marketing division?