Apple patents reveal Apple TV DVR plan?
Recordings scheduled by iPod
Readers with long memories may recall rumours a few years back that Apple was planning to fit an updated version of the Mac Mini with an integrated iPod dock. Newly published patents suggest the idea may yet emerge - as a DVR-oriented version of the Apple TV.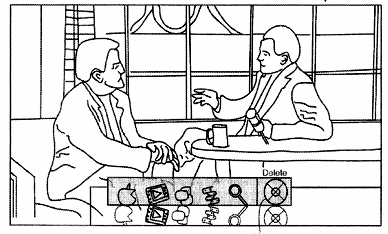 OS X Dock-like on-screen control, anyone?
Among the patents - spotted by AppleInsider - are a series of screens showing a DVR interface with a decidedly Apple TV-like look and feel, and a Mac OS X Dock-style on-screen controller.
Like all other DVRs, the one proposed in the patents features an electronic programme guide (EPG) into which Apple's engineers have cunningly tucked iTunes downloads. Missed that episode of Battlestar Galactica? Forgot to record it? Then click here to buy it from iTunes...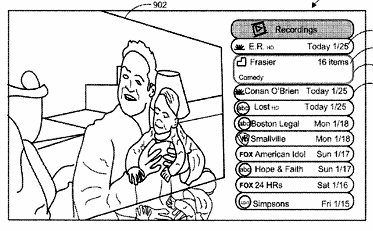 Apple TV-style angled imagery to the fore
But back to the iPod dock. The patents discuss a "remote control" not unlike an old-style iPod Nano - the patent application went to the US Patents and Trademarks Office in 2006, before the latest Nanos went on sale - that can be plugged into the DVR. When it is, it auto-downloads programming for viewing on the move.
Selections made in a mobile copy of the EPG are sent the other way to ensure upcoming shows are recorded and other content downloaded from iTunes.
Apple also appears to have automatic wireless links - whether by Wi-Fi, Bluetooth or near-field communications isn't clear - in mind too: "When the user arrives home, the user can place the remote control device within the vicinity of the video device or within the docking port, and the recording data is downloaded into the video device." Our italics.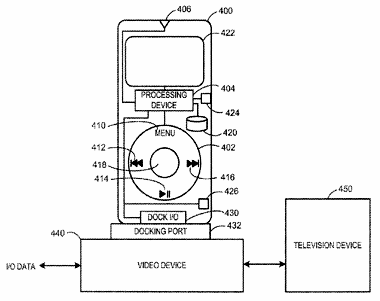 Insert iPod, auto-download programmes
It's hard to imagine this remote control functionality appearing in a dedicated device, so it's far more likely the remote does indeed represent - albeit generically - a possible future iPod. We stress the 'possible' - Apple applies for plenty of patents, many of which never end up as shipping product.
The original dock-equipped Mac Mini was first mooted back in November 2005, part of the usual speculation that swells in the run-up to January's Macworld Expo. By February 2006, the moles were claiming Apple had gone off the idea.
We're not sure the notion's latest incarnation, as an adjunt to the Apple TV, has longer legs. Apple would clearly rather we buy TV content from iTunes than grab it off the airwaves or through a cable.
Sponsored: Minds Mastering Machines - Call for papers now open