Camera gets camcorder, MP3 player features and more
Picture the Picto
Carrying a number of devices will stretch your pockets, so manufacturers have begun incorporating devices into single gadgets. Korean firm Digix is the latest and has created the multi-function Picto DigiArt i90.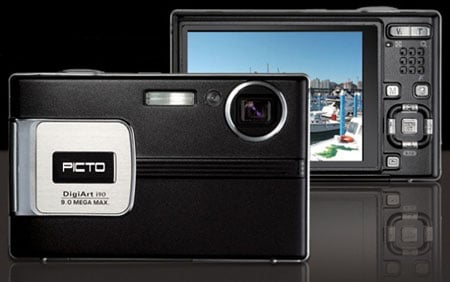 Digix's i90: camera, camcorder, MP3 player and a dictaphone
The i90 is mainly sports a seven-megapixel CMOS sensor and 3x optical zoom inside a stylish 17.5mm-thick body, which looks deceptively similar to Fuji's FinePix Z100fd. The camera captures MPEG 4 video at 30 frames per second and at a resolution of 740 x 480. The 3in LCD display means videos can be watched immediately after they're shot. Standard digicam features, such as face recognition and anti-shake technology, are included too.
However, the i90 also functions as an MP3 player and the 1GB SD card that's bundled with the camera will get you up and running with plenty of music. The incorporated voice recorder should make sure you remember all the daily chores too, like stopping off to buy milk on the way home from a snap session.
Digix's i90 camera/MP3 player/dictaphone is available now in Korea for KRW179,000 (£90/€140/$185), but a European release date hasn't been seen yet.
COMMENTS
Been done at least six years ago.
Six or seven years ago, I bought a Samsung cheapie digicam (the "Digimax 35") with mp3 player functionality. It sucked, and the proprietary headphone jack was infuriating, but the concept was there. Nothing new here.
I've been using my Canon Powershot S2's audio recording feature, which is stereo no less, quite a bit lately. Again, nothing new. Heck, with CHDK firmware it gains text file reading functionality, too. Will the CHDK folks add mp3? I'd laugh... but I wouldn't be surprised.
Identical
Samsung's NV3 might be similar. The Minox (DC 7411) and Aigo (DC-V790) are the same as I could confirm at last weeks' CeBIT 2008.
Similar
Surprising how similar this camera is to the NV3 by samsung...