Archos TV+ 250GB streaming media player
Very, very disappointing
The TV+ also fails to use the entire screen for playback, presenting an annoying black border at the top and left hand side. There didn't appear to be a way to adjust this.
The TV+ provides a link to Archos' own content portal, although again you need to register the device by connecting it to a PC before you can access the site. Once in, you can purchase movies to download from Vizumi, or view free content from Euronews or DailyMotion.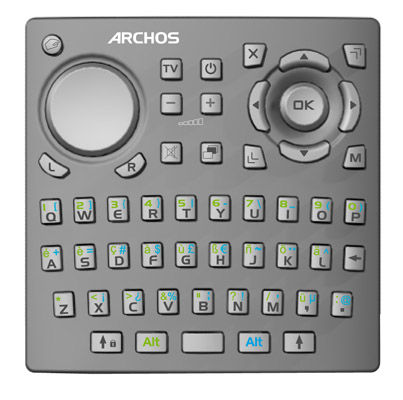 What, no play or rewind buttons?
You can also browse the web, but that'll cost you an additional £30 to buy the web browser plug-in, which is a little steep, especially given that the browsing experience isn't that great anyway and pages are quite slow to render.
The interface works, but it's very basic and fairly unintuitive to use - a task not made any easier by the remote control. The remote does feature a Qwerty keyboard, which is handy for typing in URLs and emails, but misses out on basic buttons such as play or rewind. There doesn't appear to be a quick way to get back to the home screen, and the X button sometimes goes back one step and at other times dumps you back at the main menu. There's also a big mouse joypad that occupies a large proportion of the top left corner, but it seems to only ever be used for the web browser.
We guess Archos reckons the TV+ is an Apple TV killer, but that box at least does HD and has both a splendid UI and, in iTunes, an easy content management app. Its more limited than the TV+ when it comes to the number of content formats supported, but then it's not trying to be a PVR too.
Verdict
Archos' TV+ probably would have been something to shout about a couple of years ago, but its lack of HD support, absent digital TV tuner and poor video format support mean it's outclassed by the competition. Add on the fact that the plug-ins will cost you an additional £60, and it's not exactly a cheap proposition, either.

Archos TV+ 250GB streaming media player
Despite the many things the TV+ can do, there are too many things it can't.
Price:
£240 (80GB: £180) RRP