Space Shuttle Endeavour on its way
Next stop, the ISS
Space Shuttle Endeavour this morning blasted off at 02:28 EDT (06:28 GMT) from Kennedy Space Centre in Florida for the 25th mission to the ISS, carrying the first section of the Japan Aerospace Exploration Agency's Kibo lab and the Canadian Space Agency's Special Purpose Dexterous Manipulator, or "Dextre".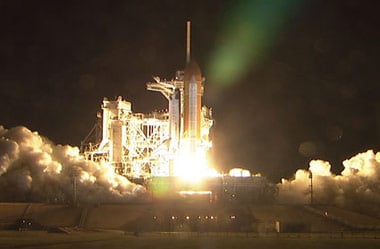 The 16-day mission, aka STS-123, is led by NASA astronaut Dominic Gorie, who commands a crew of six, including Pilot Gregory H. Johnson and Mission Specialists Rick Linnehan, Robert L. Behnken, Mike Foreman, Garrett Reisman and Japanese astronaut Takao Doi. Johnson, Behnken and Foreman are spaceflight rookies, NASA notes.
Reisman will replace Leopold Eyharts on the ISS, who hitched a ride to the station aboard Atlantis in February.
First up on the main agenda for STS-123 is attachment of the first part of JAXA's Kibo ("Hope") - which will ultimately be the largest experiment module on the space station, packing 31 experiment, stowage and system racks in its pressurized section, plus "external facilities that can accommodate 10 exposed experiment payloads".
According to JAXA, A Kibo priority will be the study of "serious environmental problems such as the depletion of the ozone layer, global warming and desertification".
Kibo will also boast the world's "largest wide-angle X-ray camera", designed to "make observations of space, examine the phenomena beyond our galaxy, and refine our map of the distribution of the galaxies".
JAXA says its scientists will further carry out microgravity experiments aboard Kibo, specifically to "produce larger and more uniformly-sized protein crystals, which will help us understand disease mechanisms and develop new medicines" and probe "the influence of microgravity and radiation on plants, animals and humans"
The rest of Kibo will arrive on two further Shuttle flights - STS-124 and STS-127.
Once the Kibo part of the gig is complete, the crew will deploy Dextre - the third and final part of Canada's "Mobile Servicing System" for the ISS which "complements the mobile base and the robotic arm Canadarm2 already installed and operating on the station".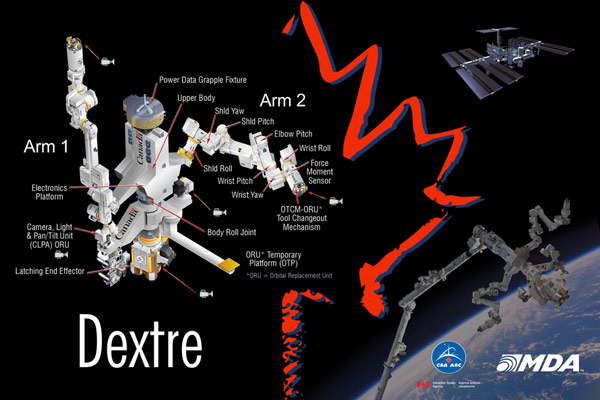 Dextre measures 3.67 metres (12 feet) in height and has 3.35 metres (11 feet) arms, and is described as an "essential, versatile tool for servicing the Station". It's equipped with "specialized grippers, built-in socket wrenches, four robotic tools, video equipment, lights, umbilical connectors to provide power and data connectivity, and a stowage platform", which are designed to allow precise manipulation of small parts.
As soon as Endeavour has departed the ISS, the European Space Agency's Jules Verne Automated Transfer Vehicle - which blasted off last Sunday - will deliver vital supplies, including dry cargo, propellant for the Russian Zvezda module, drinking water and 21kg of oxygen. Docking of the Jules Verne is slated for 3 April.
NASA has a Mission STS-123 summary here [pdf] and a more comprehensive guide here [pdf]. ®
Sponsored: Minds Mastering Machines - Call for papers now open