HP Compaq 2710p tablet PC
Could be a contender
When it comes to ports, the HP is fairly standard. You'll find USB 2.0 and mini Firewire connectors; headphone and microphone sockets; and a Kensington lock on the right side of the chassis. There's also an SD card reader and a second USB socket on the left side, along with an ExpressCard 54 slot.
Wireless connections – the 2710p features 802.11a/b/g Wi-Fi – can be activated by a physical button, and there's a switch to launch HP's Info Centre, which lets you get system information. The rear of the machine presents a Gigabit Ethernet, 56Kb/s modem and VGA ports. Digital video connections are not supported, alas.
A proprietary connector on the bottom of the chassis lets you hook up a docking station. There's also a socket to connect a six-cell slimline battery, which HP claims can boost battery life up to 11 hours between charges. With the standard battery in place, we struggled to better four hours, so those wanting all-day power will definitely need to invest in an additional power source.
It's bad news when it comes to performance. The 1710p's graphics are handled by an integrated Intel GMA X3100 GPU. It's a relatively new graphics chip, but its 3D capabilities are poor and you can forget any notion of playing anything other than solitaire in your spare time. This was borne out by a 3DMark 06 score of just 262.
PCMark05 Results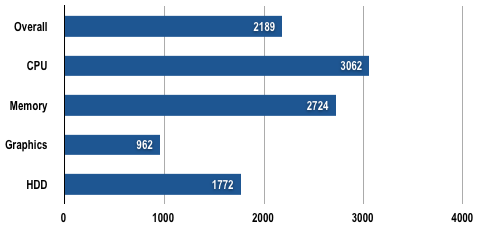 Longer bars are better
A mixture of an ultra-low voltage 1.2GHz Intel Core 2 Duo U7600 processor, 1GB of memory and Windows Vista contrive to make this an annoyingly slow laptop on initial start-up. A good chunk of the performance deficit is caused by the huge amount of pre-installed applications, most of which are trial-only.
Once we disabled or uninstalled the erroneous programs, the 2710p was noticeably quicker, and a lot more suited for day-to-day use. We'd recommend upgrading to 2GB of memory as well - it helps applications to run far more smoothly.
Verdict
It's not cheap, but when it comes to usability the Compaq 2710p is first class, with loads of thoughtful touches making it a pleasure to use. The compact display offers a great compromise between colour reproduction and a reflection-free finish, and the extra screen size makes it a lot more practical than UMPC rivals. The keyboard is also excellent.
However, the ULV processor and choice of operating system has affected performance, and you'll have to uninstall a lot of the standard applications to get the best out of it. The omission of an optical drive and high price will also put many users off.

HP Compaq 2710p tablet PC
A sharp, sophisticated featherweight, but lacking a killer punch.