Ten years old: the world's first MP3 player
Who remembers the MPMan F10 now?
Forgotten Tech The MP3 player is ten years old this month. The first commercially released personal music player capable of handling MP3 files was the MPMan F10, manufactured by Korea's Saehan Information Systems and launched in March 1998.
The F10 contained 32MB of Flash storage, enough for a handful of songs encoded at 128Kb/s. It measured 91 x 70 x 165.5mm. It connected to an old-style parallel port on the host PC from which songs could be copied to the player. There was a tiny LCD on the front to give an indication as to what you were listening to.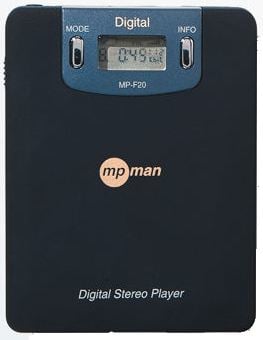 Saehan's MPMan F10: held up to eight songs
The device made its debut at the CeBIT show in Hannover, Germany. It was a prototype, but Saehan must have garnered enough interest to put the player into mass production, which it did in May 1998 before going on sale in the US and Europe through importers in the summer.
In the US, local supplier Eiger Labs wanted $250 for the F10, though the price fell to $200 the following year prompted by the release of the Diamond Multimedia Rio PMP300, which was priced at $200.
The PMP300 - widely but wrongly held to be the world's first commercial MP3 player - also had 32MB of storage fed through a parallel port. But it boasted a larger display than the F10 and also featured a Smart Media slot to allow users to increase the gadget's storage capacity.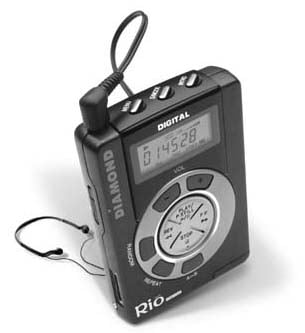 Diamond Multimedia's Rio PMP300: sued, but famous
The Rio was released in September 1998, but by 8 October had become the subject of a lawsuit from the Recording Industry Ass. of America (RIAA), which claimed the player violated the 1992 US Home Recordings Act. By that point, Rio had already teamed up with MP3.com to offer songs from the website.
The RIAA asked for a sales ban, and got one on a temporary basis on 16 October, only to have it withdrawn on 26 October. In December, Rio countersued the RIAA, claiming the organisations actions were an attempt to impede the growth of a market - digital music - which it didn't control.
It was later ruled that Diamond had not infringed the Act because it was not responsible for the actions of its customers. The RIAA appealed against the verdict, but lost there too: the Court judged that the PMP300 was not a recording device and so did not fall within the boundaries of the Act.
The RIAA and Diamond would eventually settle their differences in August 1999, but by then Rio was a household name, especially among internet users busily sharing MP3 music on the internet using newly created peer-to-peer (P2P) file-sharing software.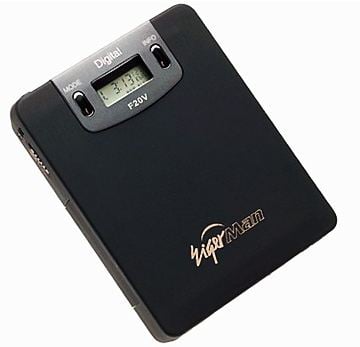 Eiger Labs' version of the 64MB MPMan F20
Thanks to its lesser known name, the F10 avoided such legal entanglements, but at the cost of all the free publicity its rival gained through from the lawsuit. Saehan soon established MPMan as a sub-division, and as such it later appeared among the roster of members joining the Secure Digital Music Initiative (SDMI), an cross-industry attempt to develop a universal digital rights management (DRM) technology.
SDMI ran out of steam in 2001, largely because of a highly publicised cracking of its encryption technology, leaving the way open for Microsoft's Windows Media DRM technology to fill the gap. And it might have done if Apple's release of the iPod in the October of that year hadn't proved ultimately so successful.
In the interim, MPMan had continued developing and offering MP3 players, but Apple's move to allow Windows PC owners to use the iPod, from April 2003, resulted in explosive growth. MPMan, Rio and other pioneers couldn't keep up.
COMMENTS
totally uninformed....
it really ticks me off when people who have absolutley no clue what they are talking about start to pontificate.
1 - apple didn't invent the m3 player, no one said they did, but ford didn't invent the car either... they just made people need them.
2 - apple SETTLED with creative. this means 2 things, creative couldn't get all they were asking for AND that there is no guilty verdict on apple's part -- they settled because fighting it in court would cost way more than 100mil. -- creative was simply trying to milk apple's success for a bit of publicity and some of the pie.
3 - i could care less weather one prefers the ipod or some random taiwanese mp3 player - the simple fact is this, apple has proven again and again that they are way ahead of the game with the ipod -- pure and simple. argue all you want, i can get AM/FM functionality in a device they sell at dollar stores -- not to mention fm radio sucks, and all my talk radio shows are pod casted anyway. i've gotten so sick of so many different mp3 players, it's like saying windows vista is any better than xp -- let alone most builds of linux or osx.
4 - the quality of audio on a mobile device is the absolute stupidest argument i've ever heard in my freakin life! it's like people who insist on doing every aspect of a record in analogue with no intention of releasing it on vinyl... all is lost once you throw it on cd, moron.... back to my point here though, there is SO MUCH background noise in your car and around you when you wear headphones, the db levels of the frequencies eliminated (anything above or below the range of human hearing) are way lower than those in your environment, so any benefit from even having them is nil, since they are drowned out by the area around you anyway. (did you know the ambient noise in the cabin of a car going 55mph on a highway can reach 70 db?) if you are arguing quality in such a crumby listening environment, you are either ignorant of the facts, or you are just arguing for the sake of argument...
though that last reason seems to be why most people shamelessly bash companies like apple and honda...
eh, whatever.
ps - i don't even own a mac right now, as the local computer store had an acer laptop on sale for $350 -- though i do intend to get a macbook, why limit yourself?
Kudos on the cd mp3 players
I got one of these Sony discmen that could read mp3s too back in 2001 I think it was. At the time it could hold 700mb of mp3s on a rewriteable disc which was impressive for the day AND have a battery life of 35 hours. You could write a blank cd faster than usb 1 went too so it was quicker to sync up. Given the first generation of i-pods could barely manage six which wasn't enough to even listen to a cd of mp3s they were rather pointless. The remote could read id3 tags properly too but it was bigger. It also read the crappy ATRAC but I never ever used that and avoided the attempts by Sony to foist their rubbish on me. I never understood though why they spent so long not having proper mp3 players when you could get diskmen so long ago that did support mp3.
I remember something like this in the late 1980s/early 1990s
I remember while in the sixth form great excitement when a friends dad produced a grey box that could play high quality audio from some kind of solid state disc.
He went out to Japan, and we never saw him again. Was this the forerunner of the MP3 player?
I guess I will never know!
iPod ithe mp3 player
"You're in Big Trouble now! Little bastard Stevie Jobs has spent the last less than a decade convincing the World that he, the Great iNOvator, Invented the Pocket Media Player!"
No he hasn't, but for all intent and purposes the iPod is the MP3 player to most people. The name iPod and words like podcasting are in common use. Ask anyone to name an mp3 player and the iPod will be their answer in most cases.
You really need to get a life Webster Phreaky, how old are you, 12?
Corporate greed, not technology is the issue
I personally believe that it was the power of RIAA and SONY Records that stifled minidiscs. The fear of people making digital copies on a large scale was the barrier. Not market preferences, not technology issues. It's not a matter of ATRAC versus mp3 technology. I don't believe SONY engineers were not capable of enabling Long Play on minidiscs (up to 4CD's on 1 minidisc) and allowing transfer of files between the PC and the minidisc long, long time ago. Or that SONY marketers were unable to arrange for a minidisc to be part of almost every single boombox and bookshelf on the market, just like the cassette player was - and again is! In all this I can see a clear pattern of erecting artificial barriers to prevent digital copying at all costs, and to prevent the minidiscs from being a widespread media like the good old cassette. Real shame.
I still use Minidisc for recording my own music and radio shows. In that function it is still unbeaten. Second reason why I am sticking with the minidisc is that I am not dependent on a computer - it's simply a part of my hi-fi. Thirdly, my instinct is that my recordings are safer on minidiscs than on a hard drive or a flash memory, long term (say 10-15 years). Hard discs and memories do crash, and file formats and interfaces do change in time.
Make no mistake - I am a devoted, long time Macintosh user. Still I find it a real shame that a player that would combine the best features of both minidisc and iPod did not replace the compact cassette. I think that would have been a real winner for us users.