What survived the axe at HP Labs
Will Hurd face new boardroom lie detector?
Conversa: say that to my face
This journalist is perfectly happy that he doesn't have to gaze upon the ugly mugs of people posting on your average internet message boards. But such sweet ignorance clearly isn't for everybody.
Conversa is a website that works like an online discussion group — only with video messages instead of text. People can either use a 3G phone or a PC to browse conversations and record their responses.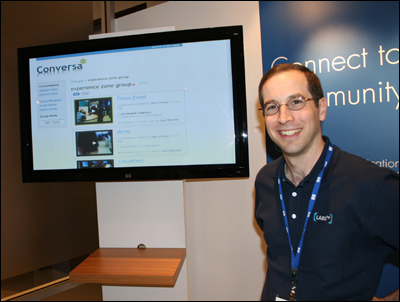 Sometimes you need to actually see a person to get the most out of the thrusts and parrys of internet discourse.
Take for instance, that time-tested retort, "OMG LOLz UR fking dum." It adds a whole new level to the discussion when you see a fat, pock-marked 16-year-old saying this from his mother's basement. Before, you simply had to assume.
Conversa is currently in closed beta. The website is here, although there isn't much to see unless you have an invitation.
B.R.A.I.N.: what happens in the board room, stays in the board room
BRAIN (Behaviorally Robust Aggregation of Information in Networks) is a web-based voting application made to "tap into the collective wisdom of employees."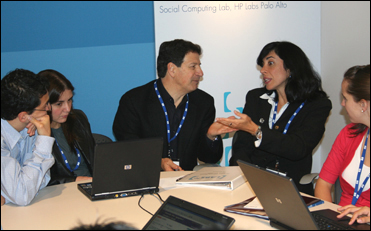 HP says it mixes voting with proprietary algorithms to help extract accurate predictions about future events such as quarterly revenue forecasts, product demand, and release dates.
Extensive testing indicates that employees are spineless two-faced weasels, according to HP Labs. What a worker will forecast out loud in the board room is often significantly different than what they'd predict if they voted using BRAIN.
The theory is that large crowds of people can predict results with stunning accuracy. But smaller groups are too easily influenced by one another to work as effectively. There's also personality conflicts that make some people over-representative of the group, while others are not heard at all.
BRAIN intends to circle around this problem by making the prediction process anonymous. It also asks voting members to back up their predictions with real money — turning do-or-die corporate decision making policy into a game. Depending on how big of a jerk your boss is, that could mean actually betting money, or offering a bonus to the person who provides the most accurate forecast.
Journos were led through a "dumbed-down" version of the software, in which we were asked to select which color we thought would be chosen from a list based on various percentages. El Reg of course got top marks, but lost the tie-breaking coin toss.
How appropriate. ®
Sponsored: Minds Mastering Machines - Call for papers now open