Mesh Ultimate Q8 Tri-SLI gaming PC
We've drooled - now it's time to see Nvidia's Tri-SLI in action
Other key features are a 1TB Seagate hard drive, Pioneer BDC-202 Blu-ray Disc reader and a TSST SH-S203N LightScribe 20x dual-layer DVD writer.
Mesh has chosen to install four 1GB 667MHz DDR 2 DIMMs, and for the first time you can see the full 4GB in a 32-bit operating system. On those occasions where we've tried out 4GB of RAM in a 32-bit OS, the amount of memory that is available is reduced to 3.5GB or even to 3GB, but it seems that Vista SP1 fixes this issue.
We were surprised to see that Mesh used such slow memory in the Ultimate Q8. However, we're assured that it has successfully tested some OCZ DDR2-1066 in this configuration so a speed bump would appear to be imminent.
Power Draw Results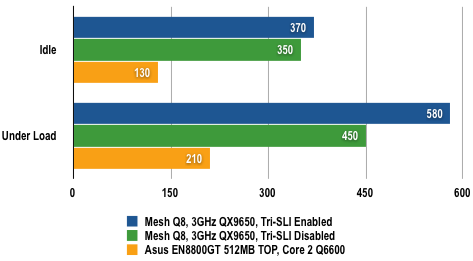 Power draw in Watt (W)
The CoolerMaster case is a colossus but the internal arrangement seems a bit weird. There are bays for three hard drives and six optical units but who, we wonder, wants more than two optical drives? OK, maybe you want HD DVD as well as Blu-ray, and possibly you might consider an HD burner, but four is surely the absolute limit. Yet three hard drives is comparatively modest.
PCMark05 Results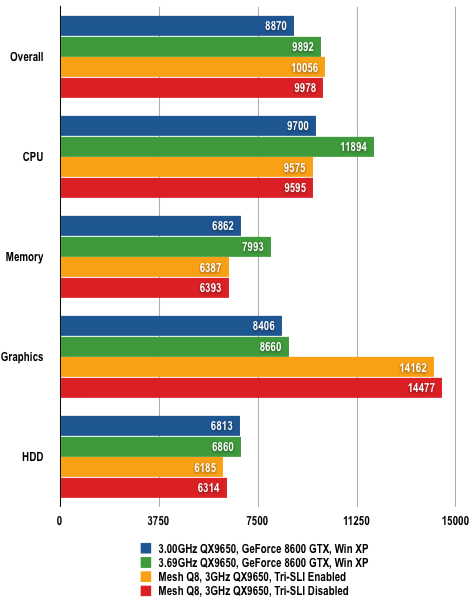 Longer bars are better
Turning to the peripherals we were very happy with the choice of a Logitech G11 gaming keyboard and MX Revolution laser mouse, but the Creative Inspire A500 5.1 speakers are rather modest and the 24in Iiyama PLE2403WS-B1 flat-panel monitor won't set the world alight.
Sponsored: Minds Mastering Machines - Call for papers now open