Pentagon rattles sabre at Google's Street View
Search monolith banned from military bases
The US defence department has banned Google from capturing images of military facilities for its entertaining Street View facility on Google Maps following the shock discovery of intimate pics of Fort Sam Houston in San Antonio, Texas.
It said in a statement that the offending snaps included "360-degree views of the covered area to include access control points, barriers, headquarters, facilities and community areas", thereby posing a threat to national security.
Google spokesman Larry Yu admitted to the BBC that the drive-by recording of Fort Sam Houston had been "a mistake". He added that Google has "a compliant image removal policy - not only relative to the military but to consumers also", a reference to privacy concerns which last August led the search monolith to agree to obscure number plates and faces on request.
In the case of the military, Google has wasted no time obscuring the offending facility by removing it altogether from Street View: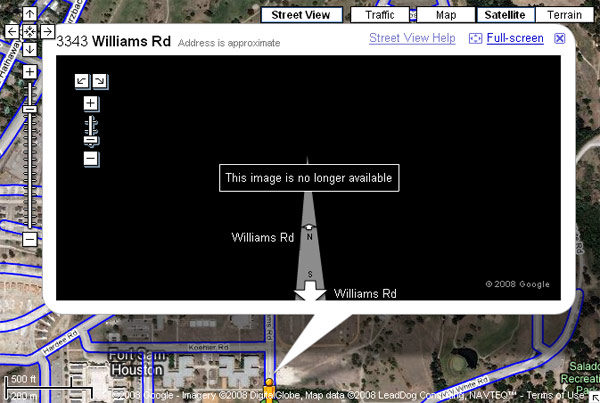 Terrorists wishing to attack Fort Sam Houston will in future, therefore, have to rely on their own intelligence-gathering resources, backed by nothing more than handy US military maps (pdf) of the facility, and hi-res satellite imagery of the base on Google Maps and Google Earth. ®
Sponsored: Fast data protection ROI?