Alienware punches out four-GPU CrossFireX gaming PC
Alienware has marked AMD's release of CrossFire X-compatible Catalyst drivers with the launch of a four-graphics chip gaming PC. It's even named the beast after the multi-GPU technology.
Dubbed the Area-51 ALX CrossFireX, Alienware's machine comes with two ATI Radeon HD 3870 X2 graphics cards, each of which has a pair of 3870 GPUs on board and 1GB of GDDR 3 video memory.
The CPU's a 3GHz quad-core 45nm 'Penryn' Core 2 Extreme overclocked to 4GHz - liquid cooling keeps the chip from boiling over - and sitting on a X38 chipset's 1333MHz frontside bus. The system's 2GB of DDR 3 memory is clocked to 1333MHz too.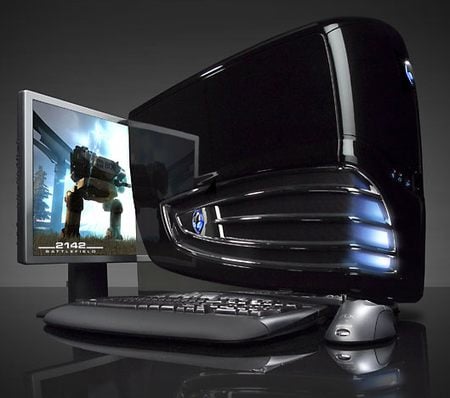 Alienware's Area-51 ALX CrossFireX: gaming monster
Alienware's offering a choice of hard drives and optical units to go with the machine. Prices start at £3257, but that's with a single 3870 X2 graphics card - going for the four-GPU option ups the price to £3556.72.
Maxing out the spec with a pair of 64GB solid-state drives, a 6x Blu-ray Disc drive, a regular DVD burner, an Ageia PhysX card, a Creative X-Fi gaming soundcard and more takes the price to a whopping £4993.75.
And that's without speakers and a screen.
Alienware's taking orders now, but the Area-51 ALX CrossFireX isn't expected to ship until 24 March.
Related Review
• AMD ATI Radeon HD 3870 X2 dual-GPU graphics card


COMMENTS
Waste of money and an inferior product....
When it comes to multi-GPU setups you will find that Nvidia's 3-Way SLI is still the faster product and with 8800 GTX's on the market for £200.00-£230.00 it's now possible to build a system with Quad core, 780i SLI, 3 x 8800 gtx and 4-8gb RAM + 24" HDCP LCD for less than 1,500.
Benchmark wise 3-way GTX is faster than 4 x 3870's or 2 x 3870 x2 (and 3-Way 8800 Ultra is king.) in ACTUAL GAMES (CRYSIS, HL2:EP2 etc) although ATI have had the edge in synthetic benchmarks for a while now (ie 3DMARK '06) but they're ultimately meaningless in the real world.
I can understand that you might pay this amount of money out if you lack the expertise to build a system with this spec (the only hazard being watercooling.) but surely the majority of hardware junkies and gamers will just build their own systems and save themselves thousands for the sake of missing out on a tacky case.
So that 3GPU NVidia lasted long, then.
That didn't take long. Anyone for 5 GPUs and then another one dedicated to beard trimming, sorry a second monitor screen?