Nokia N810 internet tablet
Fills a gap you didn't even know you had
Of course, some potential users may also ask why in this age of relatively cheap pay-as-you-go cellular net access a SIM card slot was not included purely for mobile data access. It'd be a good question too.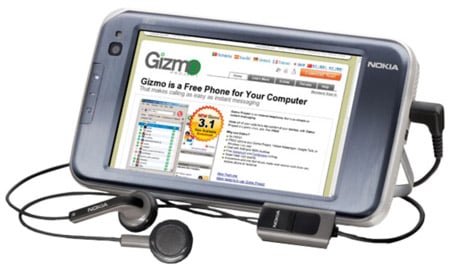 Thankfully, the N810 features a 3.5mm headphone jack rather than a proprietary one
Nokia claims the battery will last up to four hours with the WLAN on and the screen alight, ten hours when just playing music, or 14 days when the N810 is on standby. In other words, depending on what you do with it anything from four hours to two weeks.
We charged ours up, made sure both the Wi-Fi receiver and Bluetooth was switched on and ran it for just shy of 30 hours before it packed in.
In that time we spent a few hours browsing the web, listened to an hour or two of our favourite internet radio station, Triple R, played some chess, did a bit of instant messaging, checked our email and watched about 30 minutes of Frontline. A balanced usage portfolio if you ask us.
Verdict
Taken at face value, Nokia's N810 not a bad box of tricks. For surfing the web, email and as an internet communication device it is a handy little gadget, while the operating system is easy to use, feature rich and robust. The relative abundance of software is another plus. But that lack of a SIM slot does niggle just a bit.
Sponsored: Minds Mastering Machines - Call for papers now open

Nokia N810 internet tablet
Assuming you're comfortable with the cost it does a very good job of filling a niche you perhaps didn't know existed.