Nokia N810 internet tablet
Fills a gap you didn't even know you had
Controls are something the N810 has is spades, pretty much everything it does can be done in at least two ways. In fact, Nokia seem to have realised something quite essential about pocket web devices, and that is that the most effective way to navigate around such a device is by a combination of fingers and stylus and buttons rather than just by the one method. The stylus, though plastic, is a big, stiff and chunky affair that is pleasant to use and fits firmly into its slot.
Web browsing on the 810 is very straightforward. Want to switch to or from full-screen mode? Hit the dedicated button on the top. Want to zoom in or out? Use the rocker button next to it or touch the zoom icon on screen. To scroll up and down either drag the screen up or down or use the nav pad by the keyboard.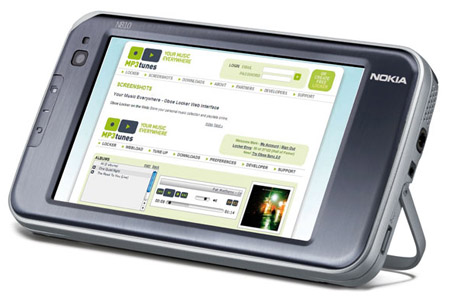 The N810 runs a comprehensive suite of applications
The N810's principle application is a rather fine web browser developed using "Mozilla technology". The only obvious similarity we saw between it and Firefox is the ability to run multiple tabs, though that alone on a mobile browser is grounds for a party, while the presence of the Flash 9 plug-in means untold hours can be spent glued to YouTube videos and the like. When in full-screen mode the browser is big, bright, easy to read and has excellent image representation.
The N810 also runs a pretty comprehensive suite of communication apps, including Gizmo, Skype and, via the built-in IM/VoIP application, GoogleTalk, Jabber and SIP. The front-facing VGA webcam means you can have video with your IM chats.
Less immediate communication is handled by a bespoke email application that can handle both POP and IMAP protocols, and is extremely easy to set up and use. The built-in address book is a little odd, though. We imported our contacts from Outlook but only ended up with phone numbers and email addresses, all physical address information and the like having vanished into the ether.
Sponsored: Minds Mastering Machines - Call for papers now open