Nokia N810 internet tablet
Fills a gap you didn't even know you had
The stereo speakers set into each side of the N810 make for a reasonable listening experience without headphones, and happily Nokia has decided to give the N810 a 3.5mm phone jack with matching hands-free rig rather than a proprietary one.
Coming with a built in GPS receiver and maps of the UK and Eire, the N810 should make getting lost a thing of the past while the speed indicator means you can run up and down the street and see how fast you are going in MPH, 12 being our Bannister-esque best. Nokia's Wayfinder upgrade is yours for an extra €99, turning the N810 into a fully fledged satnav.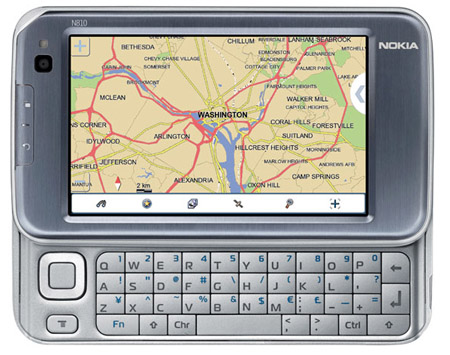 The N810 comes with built-in GPS receiver and UK mappage
Connectivity was impressive throughout our test. The N810 effortlessly picking up available WLAN signals and staying locked on. Away from hotspots we accessed the net using a Sony Ericsson K850i over Bluetooth, which gave us reliable, stable and speedy access in 3G areas.
Software for the N810 shouldn't be an issue as the maemo.org site currently lists 145 applications for OS2008, including a surprisingly playable version of Doom. The excellent chess game that comes pre-loaded deserves a mention in dispatches too.
Downsides? We're sure Nokia has its reasons for fitting the N810 with a Micro USB port and Mini SD slot rather the more common Mini USB and plain SDHC slot, but were stuffed if we can think what they are. Oh, and the on/off button is in a strange place - try to use it one-handed and the unit slides open which gets to be annoying after a while. When the metal stand is folded away you can't access the USB port or the memory card slot. The device also lacks a re-set button, so any serious mishaps mean whipping the battery out.
Sponsored: Minds Mastering Machines - Call for papers now open