Microsoft officially 425 years behind the times
Gregorian calendar exclusion goes nuclear
Attack of the Leap Year Babies III It's official: Microsoft is exactly four hundred and twenty-five years behind the times.
It's not just Excel and Exchange that ignore the Gregorian calendar. The Reg has also confirmed that SQL Server 2008, Windows Small Business Server, and Windows Mobile are ignorant as well.
In the wake of our story about Exchange 2007 failing to realize that February 29 is a real day, one astute Reg reader pointed out that Microsoft has no excuse for allowing its software to behave this way. "The rules of the Gregorian calendar aren't really that difficult to grasp," said someone called MacroRodent. "They are not trade secrets. And they have been available for centuries."
Nonetheless, the SQL Server 2008 "community technology preview" was brought down by the dreaded Leap Year Day bug just 48 hours after Microsoft unveiled it. "We have recently discovered an issue with SQL Server 2008 CTPs that result in SQL Server 2008 not starting on Feb 29 GMT only," read a statement from the company. "We recommend that you do not run or install this CTP on Feb 29 GMT to minimize any impact in your environment. You can install starting on March 1 GMT."
And there was a very similar problem with Windows Small Business Server. On Leap Year Day, Windows SBS was unable to issue itself certificates because it stamped each certificate with the date February 29, 2013. So, it failed to recognize the correct date. And it replaced the correct date with a date that doesn't exist.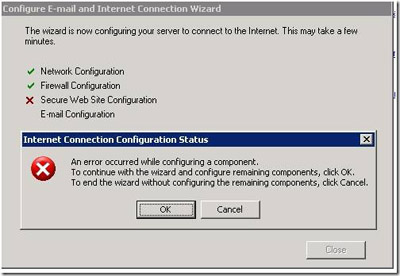 Windows SBS gets February 29 wrong - twice
Meanwhile, another Reg reader said that his Windows Mobile device is living 27 years in the future. "My iPAQ with Windows Mobile 2003 went haywire after midnight on 29th Feb as it suddenly decided that it was 1st March 2035," said Steve Kellett. "It then reminded me of 27 years worth of overdue appointments. It took me two soft resets with accompanying date changes before it finally came back from the future."
We're now quite sure that those 7000 leap year babies will murder Steve Ballmer in cold blood. "After being called 'whingers' and babies for complaining about Microsoft's 20 year leap day bug, I can only say we feel vindicated," says Peter Brouwer, a spokesman for the international Honor Society of Leap Year Day Babies. "Now that we hear it isn't just one Leap Day bug in Microsoft's software... we knew we were doing the right thing... we want to see an end to these leap year day bugs too, and The Honor Society of Leap Year Day Babies will boldly step into battle with Microsoft, if that's what it takes!" ®
Sponsored: RAID: End of an era?