Onyx Liscio micro mobile phone
Small of stature - and of feature list
Audio is a mixed bag. On the one hand, the supplied headphones provide decent sound quality through the full-size, 3.5mm headphone jack on top of the handset. But don't expect to use the Liscio's speaker as a stereo replacement, because the audio reproduction is painful. For example, sound quality during Red Hot Chili Peppers' Fight Like a Brave was so tinny that, at times, it was difficult picking out the lyrics above background hiss and distortion.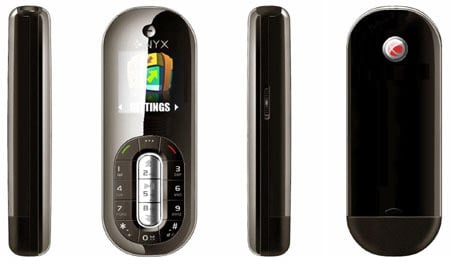 It slips comfortably into handbags, manbags and gladrags
Transferring MP3 tracks onto the Liscio is a breeze. A mini USB port sits next to the phone's headphone jack and allows you to drag and drop files onto it from your PC - the phone slips into a Mass Storage mode as soon as it's connected. But its organisational capabilities are nothing to rival iTunes - tracks are only arranged according to the order that you transfer them onto the phone. There's an FM radio too.
Storage itself isn't a problem, as the Liscio also comes supplied with a 1GB Micro SD card. A slight faux pas here: the memory card slots in behind the battery and the SIM, rather than into a specially crafted slot on the side of the phone, so you'll have to power down and remove the battery and the SIM each time you want to take out the memory card.
The Liscio can't display JPEG or text files, but you can use the memory card as a portable storage device to help you get documents from A to B. Users aren't afforded much in the way of customisation and you won't be able to, say, load photos onto the phone and use them for wallpapers, so you're stuck with the pre-installed six desktop pictures.
All that said, Onyx's aim isn't to reproduce a handset that rivals your everyday phone, so you should expect to be stripped of some of the more advanced features you'd find on the likes of the Samsung G600 - reviewed here.
Sponsored: Minds Mastering Machines - Call for papers now open