Samsung Armani mobile phone
Brand on the run?
The Armani's other prominent features include the music player and camera. The music player is a straightforward affair. There's 60MB of user memory plus a hot-swapable Micro SD card slot in the side supporting cards up to 2GB. A 1GB card is supplied with the package.
Music is organised into the usual categories, presented as lists, and you can create your own playlists. The phone can sync with Windows Media Player 11 on your PC; you can use supplied Samsung PC Studio to organise tacks; or you can drag and drop tracks to the phone's memory card.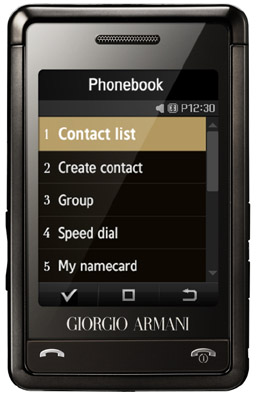 Fitted with 60MB of memory and a 1GB Micro SD card
The player UI utilises Croix for an unconventional way of controlling playback. As a song's playing, the vertical line moves across the display - you can move it to fast-forward or rewind. Moving the horizontal bar adjusts the volume.
You can also view track lists, or cover art if it's available on the top half of the display. The interface is different, but again, not as responsive as you'd like and functionally not better than standard, less eye-catching player controls.
The performance of the player, through the supplied headphones – which use a Samsung charger/headphone socket connection – is reasonably good for in-box in-ear 'phones. At higher volumes, they sounded a touch harsh, but not bad. Shame though that you can't try standard headphones as replacements, though you could opt for a stereo Bluetooth set, as A2DP is supported. You can also play through the not-very-loud-and-a-bit-tinny loudspeaker.
The 3Mp camera has an LED flash to boost low-light shooting, and a dedicated camera button for snapping at the side. Holding the phone in landscape mode, you can tap the screen to make adjustments to the automatic metering system. These are modest: you can tweak the white balance, add effects or frames, and do timed shots or multiple shooting, set ISO, quality and exposure metering.
Image quality from the fixed-focus lens is average, particularly compared to Samsung's recent high-quality cameraphones. You can get reasonably detailed shots in good light, but in lower light conditions and indoors, even with the flash, results can be disappointingly soft. Colours can be flat too, and the automatic white balance doesn't appear to respond well to changing conditions. Close-up shooting isn't recommended, as there's no macro mode to get sharp short-range shots.
Sponsored: Minds Mastering Machines - Call for papers now open