Samsung Armani mobile phone
Brand on the run?
Some people have found the in-call automatic screen-lock a pain when negotiating automated call handling systems where key presses for numbered options are required. However, this is easily resolved by a quick press of the Hold key and a tap of the numberpad option. Similarly, you can switch on the loudspeaker mid-call in this way.
While some may find this multiple key-pressing an inelegant way of doing things they're familiar with one keystroke on other phones, the messaging option is more likely to put off some users.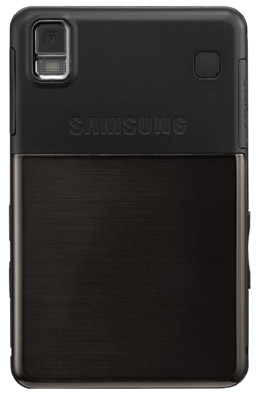 The 3Mp camera can also shoot 352 x 288 video
When creating a text message or email, you again use a virtual numberpad, this time with the usual text characters. However, as you're typing, you can only see part of your message - one line if you have predictive text on, two lines if not - not the full text. It's like using a phone screen from ten years ago.
To see the full text, you have to flick back to the left with your finger, to bring up what you've previously typed - and edit if necessary. You can save this by pressing OK, but then to add more to the text, you have to go back into the text-entry page.
This doesn't allow you to easily re-edit previous parts of the message you've saved. To do this, you have to select a bit of text or position the cursor in the message page and then go back to the text-entry page to tap in changes or additional words.
Sound complicated? It certainly is. And unnecessarily so when it should be one of the most basic of functions. Samsung knows perfectly well how to do text messaging simply, so it's a real puzzler why its touchscreen implementation has made this such a chore. You can get used to it, sure, but you can also get used to typing in mittens – but it's not a smart choice.
Sponsored: Minds Mastering Machines - Call for papers now open