Samsung Armani mobile phone
Brand on the run?
There's more to a phone than looks, though. Fire up the Armani, and oncee you've gone through the welcome routine you're faced with the touch interface.
Tapping the screen with your finger, rather than with a nail or stylus, is the form, and the phone offers 'haptic' feedback: a slight buzz when you dab at the display. Naturally, you can set the keypad to automatically lock after a few idle seconds, or use a side-mounted Hold button.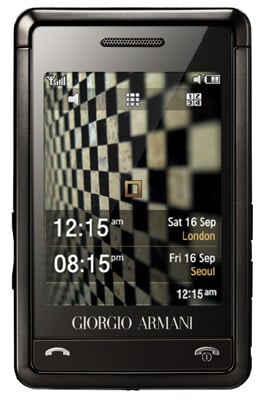 No 3G or Wi-Fi here - it's all about the branding, yah?
In standby mode, against some snazzy, striking Armani-sourced background wallpaper, you can choose to have or hide a calendar and/or a clock on the bottom portion of the screen. Neatly, a swish of the finger across will switch from one to another when it's displayed.
Three small one-touch icons toward the top of the screen represent, respectively, options for silent mode on/off, accessing the phone's main menu, and displaying the phone's virtual numberpad.
In the centre of the screen is another small but pulsing square icon. A tap of this pops up five icons representing the music player, call log, phonebook, message folder and, centrally, the main menu again.
Croix is no iPhone. It doesn't have the slickness and smooth flexibility of the Apple handset's finger-controlled flicking and zooming multi-touch screen, or its accelerometer. And with much less screen real estate to play with, your finger dabbing has to be precise or you'll find yourself staying onto unwanted keys.
Sponsored: Minds Mastering Machines - Call for papers now open