Sun throws a quicker tape parade
Mid-sized library, new cartridges, and an Infinite Archive
Sun Microsystems is today shrinking the gear in its heftiest StorageTek modular tape library system for a new machine more palatable to the mid-range set.
The company is also punting a new tape cartridge, an upgrade to its key management system, and a data archiving rack system to boot.
Crank that library to medium
The SL3000 tape library is a midrange system based on Sun's industrial-sized SL8500 silo. It's about 23 times smaller in terms of cartridge slots, and about a third of the list price cost.
The new tape library holds between 200 and 3,000 cartridges (the SL8500 does up to 70,000) and from one to 56 tape drives. As with the bigger library, you can add any tape cartridge in any open slot without powering the system down. The SL300 also inherited the "Centerline" architecture, which places the system's tapes — yes, in the center of the box. That's so the little robots inside don't have to move as far to get to the data. Lazy robots. Throughput can reach up to 24.2TB/hr with a maximum configuration.
The StorageTek SL3000 starts at about $68,000.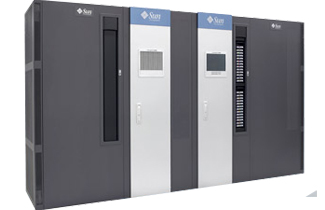 Pump up, air out, tape drive
Sun is punting a new half-inch tape drive too. The StorageTek T9840D tape drive is available with FICON, ESCON, and Fibre Channel interfaces, and stores up to 75GB on a cartridge. The drive moves data at 30MB/sec, according to Sun.
Like a man wearing a new pair of Reebok Pumps, the T9840D tape is described as riding on "a cushion of air." Sun says this trick helps eliminate friction between the tape and guides. For faster access, the cartridge uses a double-spooled design, with the head sandwiched in between the spools. We won't attempt an analogy for that one. Not with our dirty imagination. The construction allows the cartridge to start searches from the middle of the tape, rather than at either end. The T9840D tape drive goes for $38,000 per drive.
Key butler gets a raise
Sun's Crypto Key Management System (KMS) has been upgraded to 2.0, which adds improved network access and drive support.
Tapes supported by the box now include Hewlett-Packard's LTO, Sun StorageTek T9840D (natch') and Sun StorageTek T10000 drives. Pricing for KMS 2.0 starts at $8,000.
Disk and tape living together
Sun is putting its Storage Archive Manger (SAM) file system into a bundled rack appliance and calling it the Infinite Archive System. The new archive management system automates data movement across multiple tiers of storage in both disk and tape.
The system contains Sun Fire T2000 servers, with Fibre Channel and SATA disk systems. Infinite Archive automates the movement of data between tiers of disk and tape based on user policies. Prices begin at $130,000. ®
Sponsored: Minds Mastering Machines - Call for papers now open