MacBook Air not snazzy enough? Get it crystalised
More bling for your buck
Established bling merchant Crystal Icing has already added glass-made sparklies to many gadgets, so it was probably just a matter of time before it turned its glue-gun onto Apple's MacBook Air.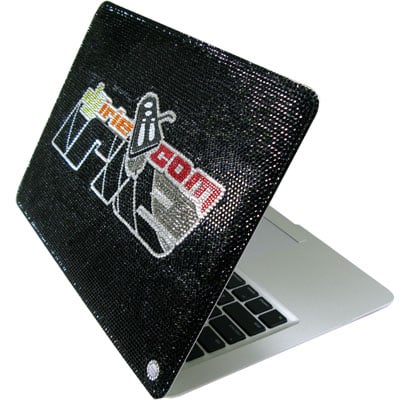 Crystal Ice's Air: would you do this to your MacBook?
The service is available to all, but the company told Register Hardware that this particular garish design was created for a celebrity vinyl spinner dubbed DJ Irie. Crystal Icing used over 8000 Swarovski crystals to create the design, which is apparently the DJ's logo, on the laptop's outer lid. Although all those crystals add extra weight and thickness to the super light and thin Air, the company still believes the idea is... ahem... "hot".
Crystal Icing offers several bling-building services, allowing you to send in your own design and hardware for the company's staff to stick crystals onto all day long. Or, you can send off for a Crystal Icing Kit that lets you stick crystal wherever you like, in the privacy of your own home.
If you're not into bling, ice and all that jazz, then US firm Colorware offers a simpler re-spray service that's still bound to get you noticed.
Each iced-Air design is priced according to specific requirements because, you know, they're not for chavs...
COMMENTS
"Would you do this to your Macbook?"
Jesus Herbert Walker Christ, that's so horrible I wouldn't do it to *any* laptop let alone a MacBook.
The vulture, 'cos that monstrosity looks so bad I want to vomit blood.
Wow!
As if owning a MacBook Air didn't make 'DJ Irie' look like a big enough c**k already...