Hard drive replacement sparks singed disk situation
Flash. Bang. Wallop
Big data transfers can sometimes be painfully slow, but they shouldn't cause you physical harm. Yet one Register Hardware reader feared he could have ended up in A&E after his new hard drive appeared to catch fire.
Karl Sorrenson told us that he'd just finished transferring data from a Seagate hard drive onto a four-day-old internal Samsung Spinpoint F1 750GB drive, when black smoke billowed out of his PC. After quickly shutting his system down, he was unable to reboot. Neither the BIOS nor Windows would recognise the drive.
Pictures show burns on the drive's motor control chip, melted solder and smoke-scarring on the drive's printed circuit board (PCB).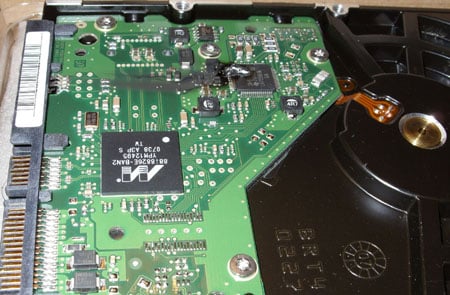 A smoke-scarred Samsung F1 750GB hard drive, yesterday
We spoke to hard drive specialist Duncan Clarke at data recovery firm Retrodata, who said that although the picture looks authentic, there could be many reasons for the combustion. Motor chips like the one shown scorched in the picture often suffer badly when a drive is subjected to overheating or a power surge, he said.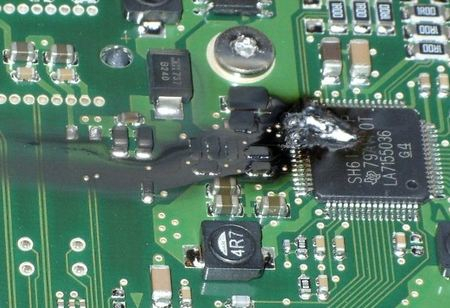 Phew, what a scorcher
Clarke said the PC's fan had probably been spinning at the time, indicated by the way the PCB was stained by the smoke in the direction of the airflow. This rules out system-wide overheating as the cause.
He said the drive's bearings may simply have seized, causing a localised heat build up. Or the heat might be the result of the way Karl had installed the two drives.
Crucially, there's no reason to assume a systematic problem with hard drives of this make and model, he added.
Sponsored: Minds Mastering Machines - Call for papers now open