Original URL: http://www.theregister.co.uk/2008/02/27/review_acer_aspire_2920/
Acer Aspire 2920 budget laptop
The notebook for your kids?
Posted in Hardware, 27th February 2008 12:02 GMT
Watch Now : Virtual Machine Movement with Hyper-V
Review It's the size of the Aspire 2920 that first catches your eye. Measuring in at 304 x 223 x 32mm, it's not exactly a sub-notebook or MacBook Air, but the Acer is certainly on the smaller end of the scale. The 2.04kg weight suggests that the 2920 might find a home in your hand luggage when you go travelling. The shiny black lid looks quite smart too.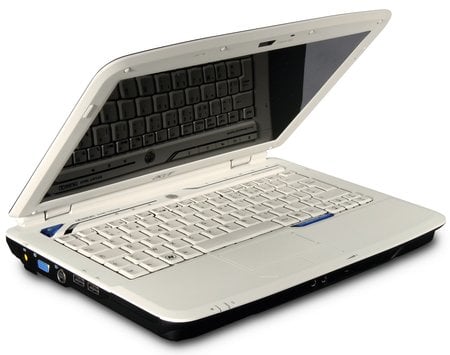 Acer's Aspire 2920: the wrong kind of grey
Initial impressions are very favourable but they take a bit of a knock when you lift the lid and turn the laptop on. The screen only measures 12.1 inches on the diagonal so there's a wide bezel that looks as though it could be a centimetre smaller in all directions, or perhaps the screen could be larger. The cosmetic side of things is a bit grim as the screen bezel, keyboard and keyboard surround are made from a pale grey plastic that looks quite revolting in the flesh.
There are smart greys and there are understated greys, but Acer has achieved the impossible and come up with an upleasant beige grey.
Sticking to the cosmetics, the power button has a blue backlight and there's another blue LED to guide you to the power connector. When you connect and disconnect the power cord the laptop beeps, which is rather unnecessary as the screen brightens and dims depending on which Windows Vista power scheme that you choose. Between these two lights there's a blue activity indicator that flickers continuously, and on the front edge of the chassis there's yet another blue light which is next to a green hard drive light.
None of this is the sort of thing that you want on a business laptop, of course. However, my style gurus - aged 7 and 9 - regarded the Aspire 2920 with wide open eyes and proclaimed it was 'cooool' with four ohs.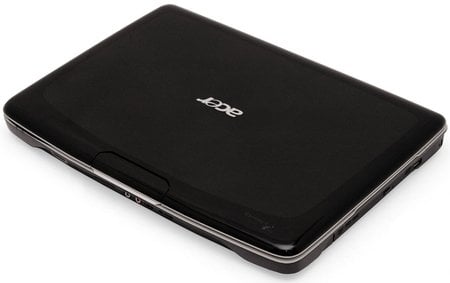 Nice lid, though...
This, it would seem, is the logical market for the Aspire 2920. Forget about the road warrior who might fancy a reasonably small and light laptop but instead go for the Yoof market. The price, £550, is certainly right, and kids are less likely to be fussed about the horribly clicky mouse buttons or the touchpad which is a bit on the small side. Adult fingers might slip off the edge of the touchpad but kids should have no such problems.
---
The choice of Windows Vista Home Premium is right for the majority of laptop users, especially if you plug in a TV tuner, and the specification will cater for the needs of anyone who doesn't play games on their laptop.
The processor is a Core 2 Duo T7300 that runs at 2GHz, and it's backed up with 2GB of 667MHz DDR2 memory in two modules. The Intel GM965 chipset's integrated graphics power the 1280 x 800 screen. Wireless connectivity consists of Intel 4965AGN 802.11a/b/g/n wireless and Bluetooth, although cheaper Aspire 2920 models lose the 802.11n feature. Our review sample had stacks of storage in the 250GB hard drive and LG DVD-RAM drive, but other models are less luxurious, although the reduced features are balanced by prices as low as £449 [1].
3DMark06 Results

Longer bars are better
The only obvious weak point is the Intel GMA X3100 graphics. However, they're perfectly adequate for day-to-day use. The screen is bright and clear with colours that are enhanced by the usual glossy coating so you'll want to avoid any strong light sources nearby that might cause reflections.
We had some concerns with the Aspire 2920 as we were unable to connect to Windows Update without suffering an error message. This led us to investigate the software that had been installed, just in case there was some sort of conflict. We didn't find the root of the problem, but we did take a good hard look at the software package and were staggered by the level of bloat. It starts with a 90-day trial of Norton Internet Security, there's a Yahoo! toolbar on Internet Explorer, Big Kahuna Reef 2, Mystery Case Files Prime Suspects and Ravenhearst, and a stack of games from Oberon Media, including such gems as Treasures of the Deep, Jewel Quest Solitaire and Luxor 2. Then we have Orion from Convesoft - some sort of messenger - Microsoft Works and a trial version of Microsoft Office and no less than 15 pieces of Acer software.
No wonder Acer supplies such a large hard drive and so much memory.
PCMark05 Results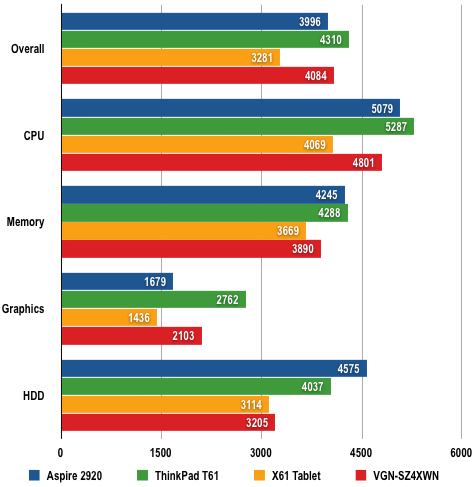 Longer bars are better
---
There are five shortcut buttons on the top right of the keyboard for Arcade Deluxe, Wireless LAN, Internet Explorer, Email and Bluetooth. At the top left is an Acer button that launches the short cuts for the various Acer tools and utilities and there's a webcam in the top edge of the screen bezel.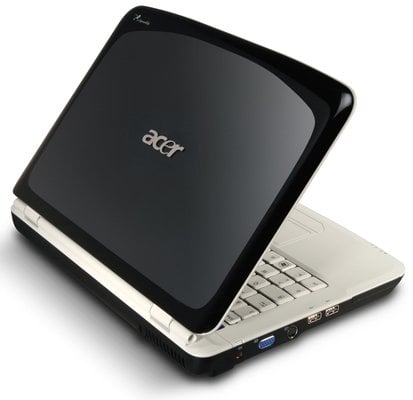 Nice and shiny
The list of ports and connectors is stadard, with three USB 2.0 ports, a five-in-one card reader, Gigabit Ethernet, modem, VGA and s-video output. On the front edge of the Aspire there are headphone and microphone jacks along with a volume control wheel which you might hope the kids will use for listening to music or watching movies but you can bet your boots they'll be on Skype and MSN.
Battery Life Results

Continuous use measured in minutes
Longer bars are better
In our testing, the performance was exactly in line with similar Core 2 laptops which is all that you can ask of a laptop. The 4800mAh battery life is good for one hour 20 minutes of continuous use which is about two hours 40 minutes of regular use but let's face it, you won't be using the Aspire 2920 on the move too often so the battery life isn't critical.
Verdict
The Aspire 2920 is a decent compromise of weight, size and features. While it's not perfect, the price makes it incredibly tempting.