Gov boffins to carry out simulated London dirty bombing
Will carry official toxic-attack-expert IDs
The UK Home Office has warned passersby in London's Marylebone district not to panic if they should notice individuals releasing colourless, odourless gases into the crowded urban streets. Rather than evil terrorist mad-scientists carrying out a deadly nerve gas attack, these are responsible government-funded scientists carrying out a simulated gas or dirty-bomb attack.
Tony McNulty, minister for plods and spooks, assures us that there is nothing to worry about.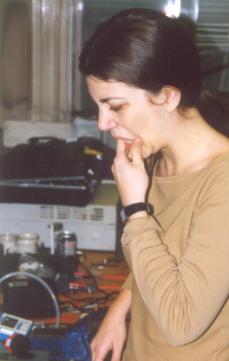 A government toxic-outrage scientist at work.
It's evidently a stressful job.
"These tracer gas trials are planned in the Westminster area of London in the next couple of weeks. There is no danger... the tracer gases are non-toxic and odourless," he said in a statement.
"We have some of the best emergency planning systems* in the world. These trials support the development of the UK's capability to model the release of hazardous material in urban environments."
The trials are being carried out by a joint academic project called Dispersion of Air Pollution and Penetration into the Local Environment (DAPPLE), now retasked with Home Office cash for simulation of "a chemical, biological, radiological or nuclear release". This new set of experiments is thus called DAPPLE-HO.
The government gas-cloud boffins will be wearing hi-vis jackets and will be "carrying ID showing that they from the DAPPLE project". So if you see anyone carrying out what looks like a suicide nerve-toxin strike in Marylebone, be sure to check their credentials before fleeing in panic or setting about them with improvised clubs and projectiles in have-a-go-hero/lynchmob kill frenzy style.
Sadly the DAPPLE website doesn't give an example of genuine DAPPLE identity documents, which could leave an opening for dastardly gas-attack terrorists packing fake IDs to masquerade as righteous government dirty-bomb boffins, allowing them to carry out their fiendish plans unmolested. But no doubt the Home Office has factored this into its calculations.
The DAPPLE-HO site does have a photo gallery, though, offering a rare glimpse into the life of a top-flight government poison-cloud expert. It seems a shame that they have to sleep in corridors, but sometimes in the War On Stuff sacrifices must be made.
The Marylebone gassings will take place "shortly", apparently. ®
*We're guessing McNulty means planning for emergencies rather than planning of emergencies. Though in this case he is planning a small, simulated emergency.
Sponsored: Minds Mastering Machines - Call for papers now open