Venturi Mini in-car FM music streamer
Handy, helpful little hi-fi add-on
The Venturi will allow you to re-dial the last incoming number without recourse to the phone handset and has a built-in phone book which you can download directly from your mobile. The phone book has a few drawbacks: it downloads either all your contacts, up to 100 entries, or none at all. And the scroll wheel is just a little too small and stiff to navigate the phone book easily while keeping your attention on the road ahead.
The benefit of the Venturi having a USB port is that it can charge other devices. We left a USB-to-mini USB cable plugged into it and swapped it around between our TyTn I and a satnav system as needed without having to unplug anything from the power socket. Nice. For £13 Venturi will sell you a set of mini-USB/phone adaptors so you can hook up the charge cable to most common makes of mobile.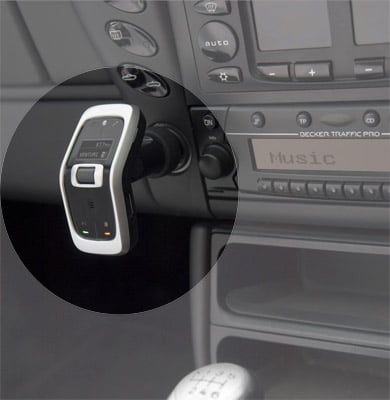 One full-size USB port to charge other devices
For some reason, the Mercedes used for testing generally just doesn't like cigarette lighter power adaptors. Sure, they fit, but not well and the slightest nudge often results in the power light going off. Not so with the Venturi, which, thanks to its locking-ring mechanism that opens out the metal contacts once in the socket, slotted in straight, true and firm, and then staid put once locked.
One potential problem with the Venturi is that having the unit stuck directly onto the power socket may preclude its use on certain makes and models. It fitted just fine in our test car, a 93 model Mercedes E230, but it's an automatic. We suspect that on the manual version the position of the gear stick when in fifth would have been in just about in the same place as the Venturi sits. Have a good look at your dash layout before purchase.
Verdict
It's hard not to be impressed with the Venturi Mini. For 80 quid, you get a perfectly decent hands-free device and FM car stereo music streamer that also has a handy USB charging port.
Sponsored: Minds Mastering Machines - Call for papers now open

Venturi Mini in-car FM music streamer
A regular in-car Swiss Army knife of a gadget that rather impressed us...