Venturi Mini in-car FM music streamer
Handy, helpful little hi-fi add-on
Installation consists of open box, open car, plug contents of box into car. Set-up is pretty straightforward too, and the instructions are both comprehensive and easy to understand.
Basically, what you do is plug the Venturi in, pick a 'free' FM band on your car radio and then tune the Venturi into that station. Thanks to RDS, the radio's screen reads "Hello Venturi" when it's receiving a clear signal. The unit can store four FM frequencies, and it's worth locking in all four on your car radio when you initially set the device up. While 88.7 is free in west Manchester, we're prepared to bet it isn't any good in other places. With four paired frequencies there's a good chance that no matter where you find yourself at least one will be free. Swapping frequencies on the go is easy enough, you just tap the top left-hand side key and cycle through.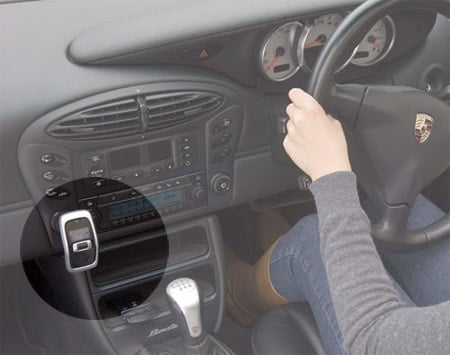 We prefer the brushed metal version... and a Porsche
Once up and running, the Venturi will stream music from a paired mobile phone through the selected FM station. Being equipped with Bluetooth's AVRCP and A2DP protocols, the Mini gives you get the full stereo effect and handset control with a compatible phone, though if you want to play music from an MP3 player without Bluetooth you can plug the player's headphones jack into the Venturi's input socket with the supplied cable. When playing back music over the cable, the Venturi's controls are naturally sidelined and your player will just keep on playing, albeit inaudibly, when you take a call.
Sound quality is largely dependent on how good your car stereo is, but we found it more than acceptable on the not exactly state-of-the-art Pioneer system in our test car so long as we didn't crank the volume up too loud. For the test, we streamed our music from a TyTn I with Windows Mobile 5 Media Player. Not exactly a hi-fi, but easy enough on the ear all the same.
When the phone rings the radio displays the incoming call number and you simply touch the 'accept call' key and the music stream is replaced by the caller's voice. The built in noise-reducing microphone is more than capable, and during our three-day test we never had any problems conversing over the system, even when driving at motorway speeds and despite the fact the unit was plugged in just ahead of the gear lever at knee level.