Lenovo intros skinny, low-weight ThinkPad
X300 debuts
Lenovo has introduced its latest sub-notebook, the 1.42kg ThinkPad X300, in Japan ahead of its Western debut.
The X300 packs a 13in widescreen 1440 x 900 display lit with an LED backlight, but when closed is just 18.6mm thick. It still features an integrated dual-layer DVD writer.
The machine's based on a 1.2GHz Intel Core 2 Duo SL7100 processor on an 800MHz frontside bus. Depending on the model you pick, you'll get 1GB or 2GB of 667MHz DDR 2 memory, expandable to 4GB. Graphics come courtesy of the laptop's Intel 965GM chipset.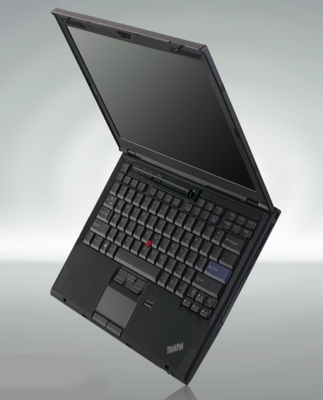 Lenovo's ThinkPad X300: thin'n'light
The X300 is Centrino branded, so it has Intel's 802.11a/b/g/n Wi-Fi module on board, along with Bluetooth and Gigabit Ethernet. It has three USB 2.0 ports.
Lenovo claimed the X300's battery life at 8.2 hours, but the caveats are that's with the optical drive disabled and the use of a six-cell battery instead of the standard three-cell unit.
There's no hard drive option, at least in Japan. There, the X300 is SSD only, packing 64GB of storage in a 1.8in SATA unit.
Over there, Lenovo is offering the X300 with Windows Vista Business - there's a fingerprint reader on board, common on Vista Business laptops - but a glitch on Lenovo's US website indicates over here the machine will also be offered with Windows XP.
Prices in the States start at $3006; Lenovo Japan will charge between ¥346,500 and ¥365,400 ($3208-3383/£1632-1721/€2164-2282). The X300 goes on sale today.
Related Reviews
• Toshiba Portégé R500 slimline laptop
• Lenovo ThinkPad T61
• MacBook Air video preview
• Lenovo ThinkPad X61 Tablet


COMMENTS
@spec comparison
Why limit the assessment of Paris to aesthetics, where as you say she is not too bad?
After all we have video evidence she puts out, and she has a lovely bank balance.
Wrap her up. I'll take her!
It has a touch/pointer stick!!!
I want one! Mac notebooks do not have this super efficient tool on them. I hate notebooks without them. The pointerstick saves so much time!!
This is a very nice notebook. It would be nice to have Firewire port and a eSata port too but oh well.
I think I may be buying me one of these in the future and put a Kalyway OS X on it. Unless Apple decides to sell their OS for Non-Mac hardware.
Nice stuff! I especially like the SDD! Have to swap it out with a Mtron or Samsung 128 GB!
13 inch?
This looks like a nice upgrade for the T series thinkpads.
But what I'd really like is a widescreen upgrade for the X series: same width as an X60 but not quite as deep, and with a higher resolution screen.
I hope that branding this laptop as the X300 doesn't mean the X series will be growing in size
@And getting a HP is bad, because?
Because HP needs to die. Slowly and painfully for maximum satisfaction, but plain bog-standard dying will do. Including specifically Capellas and Fiorina, who've gone elsewhere.
You know their slogan? "HP - Invent". They stopped after inventing how to make money from pigments, and they wouldn't know excellent tech if it did the full-blown extended hardcore dancing on the piano act, with a strobe-lit fluo-hot-pink tutu and accompanied by several dozen Klaxons and a couple of air-raid sirens.
Spec comparison
I don't know what spec was read by the person who said the X300 weighs "significantly less than the Air", but according to Apple's website, the Macbook Air weighs 1.36 kg. ("Actual weight varies by configuration and manufacturing process")
Nonetheless, the X300 seems like a much more usable machine. Are we all aware that the Air has *no*ethernet*port*??? And a lot of other missing bits.
I will grant you, the Air is very pretty, but.. well, Paris H isn't too bad either if we limit ourselves to such parameters..