HTC to release handset video 'fix'
But not hardware-accelerated video drivers
HTC has pledged to release a "software optimisation" that will dramatically improve its handsets' performance. However, the news may not impress phone owners hoping for full video drivers.
A number of users of HTC handsets have complained that some models don't provide the video performance they believe the hardware is capable of delivering.
Earlier this year, HTC promised to look into the problem. It now states that its "top engineers" have discovered a fix to "dramatically improve performance for common on-screen tasks like scrolling".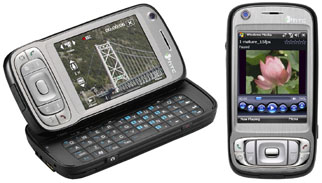 HTC's TyTN II is just one of several handsets users have complained about
The software optimisation update will supposedly benefit several handsets, including the TyTN II, and will be released soon - after more testing.
What the fix isn't is a set of video drivers for the phones' Qualcomm MSM7200 and MSM7500 chipsets, because that would require a major software development effort.
"It is important for customers to understand that bringing this functionality to market is not a trivial driver update, and requires extensive software development and time.
"Video drivers are a much more complicated issue that involve companies and engineers beyond HTC alone."
In short, it needs its carrier partners to say they want the functionality and to therefore fund its development. HTC isn't going to do so on its own, at least not without pressure.
Such a push could yet come from the folk behind the HTC Class Action website, who have threatened the firm with legal action if it fails to deliver a solid solution to their devices' playback problems.
Sponsored: Minds Mastering Machines - Call for papers now open