Krell touts top-rank iPod dock
Sounds good
There are plenty of iPod docking stations available right now, but if you demand nothing but the best for your Apple player - and have the cash to get it - then high-end stereo manufacturer Krell reckons it has the perfect dock for you.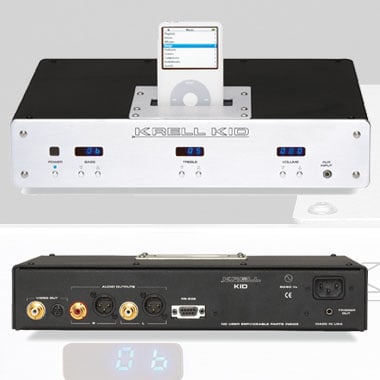 Krell's KID iPod dock: expensive
Its KID iPod dock is being marketed with that bold claim that it's "the world's best-sounding iPod dock" and, considering it costs around £1300 (€1650/$2600), it certainly should be. Krell claims the KID achieves this status by being able to retrieve the musical signal from an iPod and "handle it with respect" while reproducing it with "levels of sound quality that will delight the most critical listener".
Though this is no docking station to connect up to your tatty old stereo. Krell expects users to link it to a high-end hi-fi system in order to take full advantage of, say, the digitally-controlled analogue bass and treble controls, 255-step custom-taper volume control or balanced and singled-ended outputs.
The KID is controlled via a supplied remote control and is available in the UK through Absolute Sounds.
COMMENTS
Tosh
"the digitally-controlled analogue bass and treble controls"
How fashions change - time was when those selling overpriced hi-fi would look down their noses from a very great height at the thought of the super-flat responses of their amplifiers being violated by tone controls - not to mention interference coupled in from those numerical displays! Besides which, digitally-controlled analogue tone controls are what you'll find in all sorts of cheap audio equipment.
Quality
Audiophile grade compression artefacts!