Shuttle XPC Glamour SN68PTG6
Stylish AMD-powered media centre, anyone?
If you're considering the Shuttle as a Media Centre PC we feel that the ICE cooling system is too noisy. It's an effective system that works with a range of processors in different models of Shuttle by moving the heat from the CPU heatsink through some heatpipes to a large radiator at the rear of the case. This radiator is covered by a 100mm fan which blows air through the radiator and out of the case.
However, the fan is quite noisy. An Athlon 64 X2 6000+ will demand all the cooling that you can throw at it but a more sensible processor such as an X2 4200+ or 5000+ requires less cooling. We've no doubt the fan on the SN68PTG6 could be quieter but as things stand the Shuttle produces a similar level of noise to an Xbox 360. No problem for a games console but too high for a Media Centre.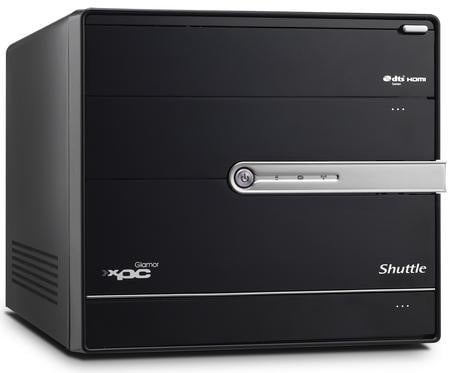 Glamorous?
The alternative scenario is that you want to build a dual-core PC that has the capability for regular day-to-day tasks such as email, eBay, music playback and movies. The Shuttle works well enough at these tasks but it's hard to see why you'd go down the AMD route instead of sticking with an Intel processor. You can buy an Athlon 64 X2 4200+ for £45, although the X2 5000+ that we used in testing costs £70, but you can buy a 2.2GHz Core 2 Duo E4500 for £80.
There's no doubt in the mind of your reviewer that the Core 2 Duo is well worth the extra cash, but if you're on a tight budget then the AMD option might be tempting. The problem is that the SN68PTG6 is relatively expensive because it carries a number of high-end features.
At the bottom of the front panel is a cosmetic flap that covers two USB ports, a mini Firewire port and the audio jacks for a headset. All standard stuff, but the shuttle also carries a fingerprint reader for added security as part of the Windows log-on procedure. It's an unusual extra for a budget PC and we found it to be effectively useless as we were unable to register a fingerprint in ten attempts. This kind of thing works well on a laptop, where the reader can be placed horizontally, but not on a desktop where it's mounted vertically.
Shuttle quite reasonably includes 802.11g Wi-FI in this model but the inclusion of Bluetooth must surely add cost for little tangible benefit.
On the rear of the Shuttle there are five audio mini jacks, digital optical output, four USB ports, one Firewire and two eSATA ports, and there are internal expansion slots in the shape of a PCI Express graphics slot and one PCI slot.
3DMark06 Results

Longer bars are better
During our testing, we used a GeForce 8800GT graphics card and had to work around the limitations of the wiring harness. There's no six-pin PCI Express connector so we used an adapter. However, there was only a single Molex connector instead of the two that you would normally use. Happily this bodge worked successfully and the 8800GT ran properly, so the Shuttle could double up as a gaming rig. But would you really want an AMD gaming PC when you can have a Core 2 Duo for the same price?
Verdict
Shuttle has successfully built a nice-looking barebones that uses an AMD processor, but the SN68PTG6 is aimed at the luxury end of the market. This is a strange combination of features, as the performance could be improved by using Intel hardware. A better approach is to build a quiet, cheap AMD Media Centre using a Micro-ATX AMD 690 motherboard with HDMI output.

Shuttle XPC Glamour SN68PTG6
Shuttle reckons that there is some life left in the Athlon 64 but is it just wishful thinking?